Digital-first insurance companies almost never existed in the pre-COVID era. Yes, there were companies that had undergone their own digital transformations. However, digital was still a secondary option or a backup for these companies. The revenue accrued from digital was always welcome but the primary revenue came from the traditional in-person business model involving the insurance agent and the consumer. COVID-19 has adversely affected this traditional model. 
Now, the secondary or backup plan which was digital had to play a primary role in driving revenue for insurance companies. Due to the unexpected arrival of the pandemic, insurance firms were least prepared to combat the situation. As the pandemic is here to stay for quite some time, companies have to undergo an aggressive digital-first approach to sustain their businesses.
We recently had an insightful thought-leadership session with Manu Lavanya, Director & COO, Max Life Insurance.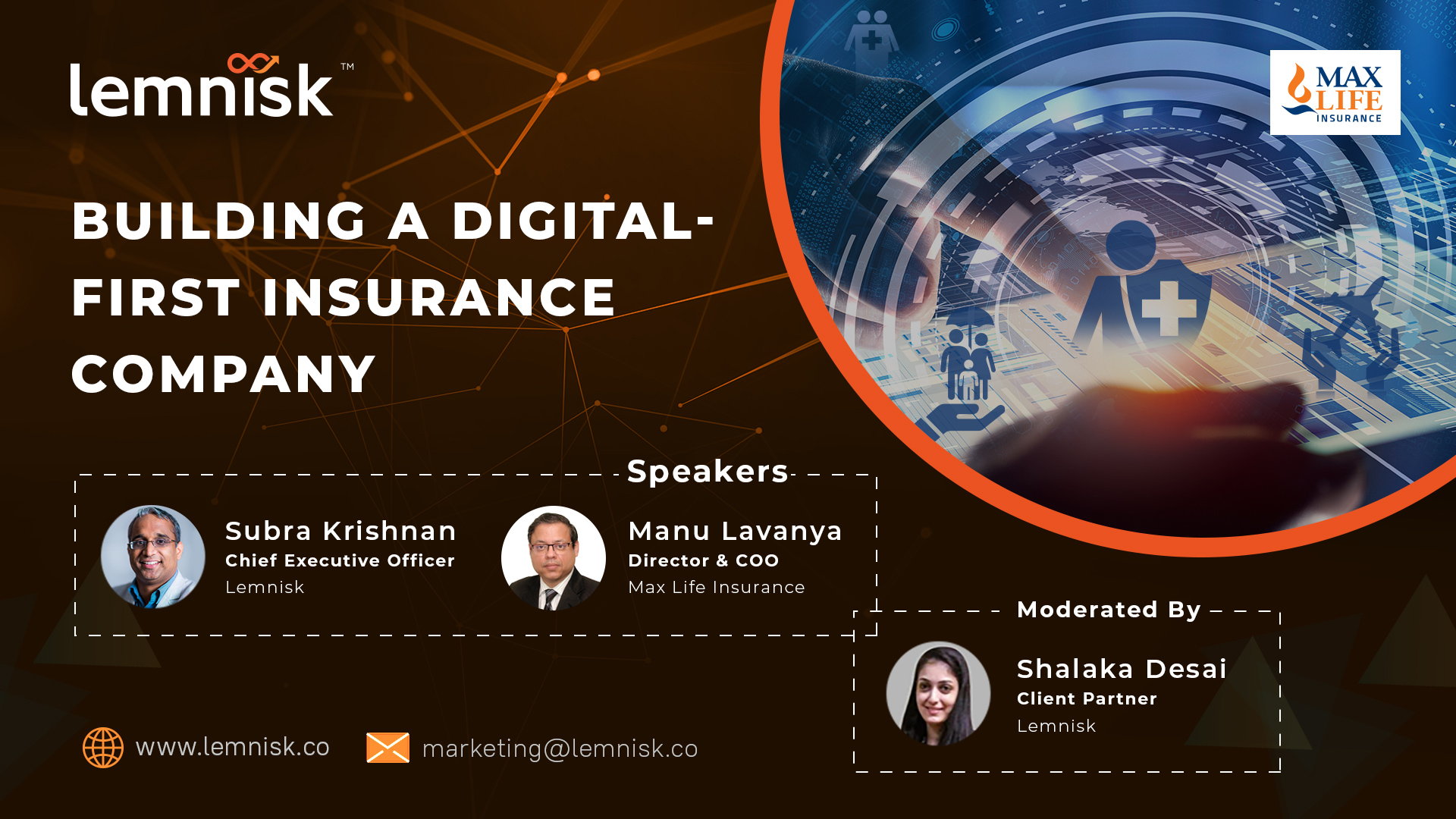 Manu is a global leader with over 24 years of experience who has been successfully creating, transforming, and scaling businesses across multiple industry domains and geographies across the US, Latin America, Eastern Europe, UK, India, etc. At Max Life Insurance, he is responsible for providing executive leadership to operations, claims and underwriting, digital transformation, quality innovation, IT, and functions such as service excellence. Prior to Max Life, Manu has had an illustrious career in various roles at companies such as ITC, Cognizant, Brillio, and Incedo.
In this discussion with Subra Krishnan, CEO, Lemnisk, Manu explains how marketers can build a digital-first insurance company. Here are some of the important excerpts from the discussion:
Building a Digital-First Insurance Company
What has changed in the way the insurance industry is being led and pivoted during COVID-19?
COVID-19 has brought greater awareness about Life Insurance among consumers. They are now considering to purchase insurance policies online which is a positive development. Bringing in a quick digital transformation now will immensely benefit marketers

The customer mindset in insurance is very different in terms of acquisition and retention. On the acquisition front, there is an increased awareness & sensitivity around pure Term Insurance. However, as the market is down, all unit-linked insurance plans have taken a significant downturn in terms of demand. This is because people are not seeing insurance as a lucrative option for investment as before.

Life Insurance penetration in India is only 2.7%. There is a huge distance to go in terms of awareness about what one feels to be secure. COVID has had a portfolio re-balancing effect on insurance. On the retention front, the desire in customers is uncertain because of economic hardship.

Insurance was a personal 1-to-1 selling model and the industry worked on the deep connection between the consumer and the insurance agent. The product is complex where the agent sells a promise to the customer. This had to be in done in-person. The current pandemic has put a full-stop to this business model of the insurance industry. To conserve the business, the industry needs to undergo an immediate transformation towards digital.

The need for a digital transformation raised questions such as:

How do you change the in-person sales model to a completely virtual-side model?

How do you drive an in-person governance model to a distributed governance model?

How can the people's mindset be changed from input-based to outcome-based measures
What are the key transformation drivers for a digital insurance company in a post-COVID world?
Creating a non-in-person digital selling model

Achieving remote fulfillment via digital

Motivating people to pay via unique methodologies, messaging, and interactions
"We at Max Life realized that there was a muscle that we needed to build as soon as possible to combat the COVID-19 situation. But we also realized that a permanent muscle was required for the long-term in the post-COVID era." 
What sort of "muscles" or strategies can drive better customer experience?
"The long term muscle to invest in is digital. The question today is not about how we can ramp up bigger machinery. It's about how can we discover a new target segment where the propensity to convert is much better than what we had done in the past."
The world is shifting from the sheer "effort" phase where it was required to sustain the business initially to an "intelligent" effort phase which involved building permanent capabilities to sustain the business in the long run. 
There are three dimensions of digital value:
Intelligence – extracting maximum value out of intelligent processes

Experience-centric – every process should be customer experience-centric 

Automation – driving a better output from a low input
What are the recommendations for insurance leaders with respect to digital transformation?
Getting a customer 360-degree view is an effective starting point to a digital-first strategy

A CDP provides a holistic customer view and makes it available for multi-channel activation

The differentiation for insurance companies would be the ability to better predict the customer's next best action than their competitors
By Bijoy K.B | Senior Associate Marketing at Lemnisk