Today, the global telecom market according to Statista, is estimated to grow up to US $1.46 trillion in 2020. As there are a lot of players in this industry, it becomes important for telecom marketers to stand out in the eyes of their consumers. To achieve this goal, they need to start delivering personalized customer experiences on both offline and online channels.
For orchestrating personalization, it becomes important to understand each customer's needs and wants. By analyzing customer data, telecom marketers can essentially understand customer buying propensities and their digital behavior. In order to do this, they need to use a robust data management tool such as a Customer Data Platform (CDP).
A CDP can essentially aggregate and unify customer data from disparate online and offline sources in a single location. This results in the creation of a single user view for each individual customer. Thus, using this unified view, marketers can extract valuable insights that they can use to craft personalized marketing campaigns. These campaigns can be targeted on a customer's preferred channels and devices which can result in increasing digital engagement and conversions.
Here are 6 CDP use cases that telecom marketers can implement for their respective companies:
6 CDP Use Cases for Telecom Marketers
1. Product Intent
An anonymous visitor visits a telecom provider's website, checks a prepaid plan, and drops off. His website activity is recorded in the CDP. The telecom marketer can then target the user by delivering a personalized browser push notification to bring him back to the website.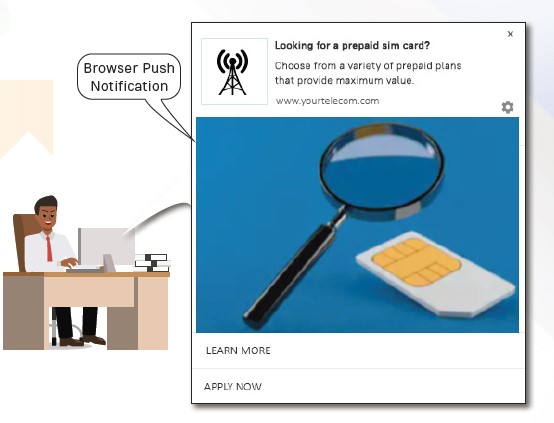 2. Complete Application Reminder
A user is filling up details while signing up for a telecom plan on the website. When he is about to drop off from the site, a real-time personalized onsite notification can be enabled that encourages him to complete his application. Through a CDP's pre-created segments, the telecom marketer can trigger real-time personalized notifications to each user who does not complete the application.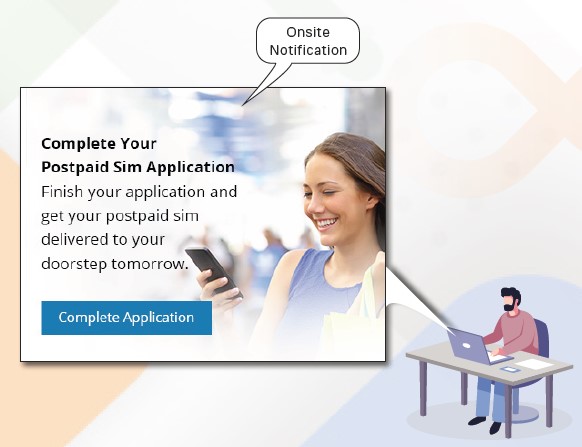 3. Partner Combo Offers
A user checks out a few telecom plans, exits the website, and browses phones on a partner's mobile phone website. The user is then shown a personalized browser push notification with a combo offer to buy the phone along with a telecom plan. The marketer can keep track of the user using his cookie ID. The CDP tracks the user's activity on the partner website as well as on the telecom provider's website. This enables the telecom marketer to deliver a personalized combo offer to the user.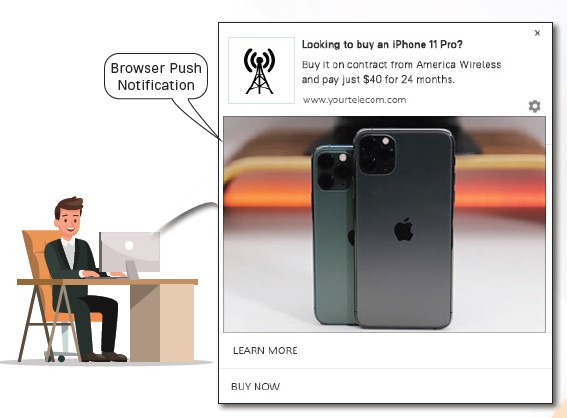 4. Ad Targeting
Users can be targeted on Facebook or Google Ads with a display advertisement showing an attractive telecom plan. Clicking on the ad will directly take them to the appropriate page on the telecom provider's website. By making use of the CDP, both prospects and customers can be shown customized Google or Facebook ads based on their online website activity.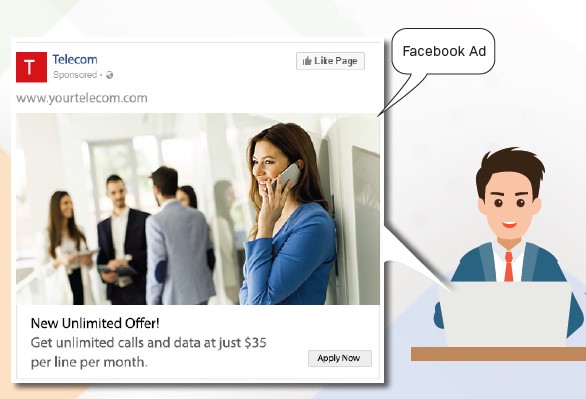 5. International Roaming Offer
A customer is booking international flight tickets through a partner site. He can be notified via an app push or browser push notification about attractive data and voice roaming plans for his international travel. In this use case, a CDP's single customer view enables the telecom marketer to tailor personalized offers based on customer interests and buying propensity.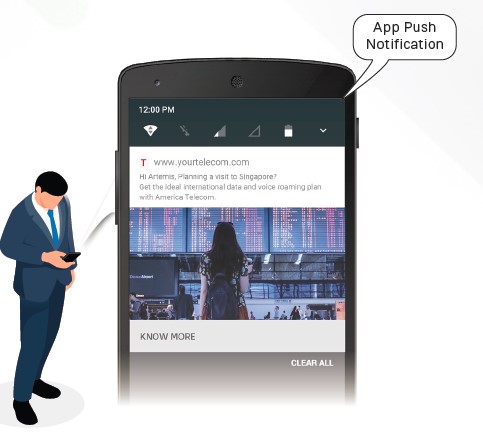 6. Phone Contract Expiry
A customer's phone contract is about to expire. He can be encouraged to renew the plan via a personalized email or an app push notification. Here, the CDP enables the telecom marketer to orchestrate the right offer at the right time and on the customer's preferred channel.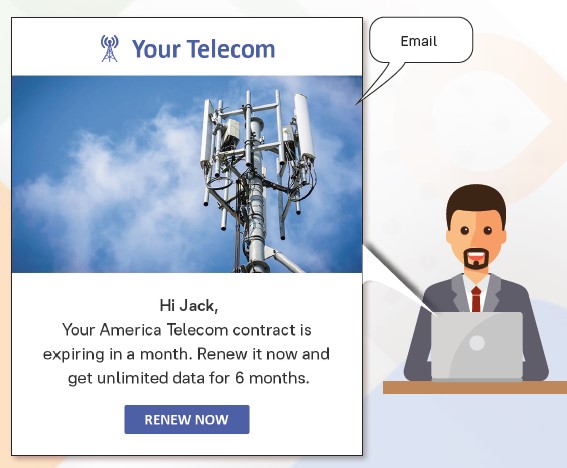 Get access to 10 more CDP use cases for the telecom industry by downloading the following e-book:
By Bijoy K.B | Senior Associate Marketing at Lemnisk