Customer is "King". It is one of the phrases which we hear in every walk of life. Are we really serious about it or is it something we all need to assess?
This blog is pertinent to the financial services space where the customer interacts with your brand through numerous mediums and how it becomes important to utilize those interactions meaningfully. These interactions/triggers are pieces of information which users create through their everyday actions that indicate they are either a potential customer/prospect or otherwise.
Why is it important to identify these triggers?
Before answering that, let's look at different customer touchpoints –
A banking prospect, based on his interest, browses a specific product/credit card on the bank's website
A user, for a specific insurance need, visits a Health/Life/General Insurance Provider's website
A user transacts on a bank's ATM
A user, after showing some behavior on the website, visits the retail branch of the bank or calls insurance provider's call center
A user visits an insurance website to renew his/her policy
A user performs a net banking transaction to open a Fixed Deposit account
A user transacts for a specific insurance product on a brand's website & submits a lead
All the above examples are certain triggers which a brand can utilize to target its users in real time with meaningful, relevant, time-based offers. Not only this drives digital growth for banks but also enhances the overall customer experience.
My Bad Experience…
Unfortunately, most of the Financial Services brands are not been able to identify or utilize user behavioral triggers & merge it with CRM data. As a customer of one of the leading banks in India, for my travel needs, I was looking for a premium card which can give me unlimited lounge access. So, I visited the website multiple times to browse for the specific card and also called customer care. To my surprise, I never received a callback or an email, SMS, notification, ads, etc. Now that's a lost opportunity.
Now, let us look at the below flow chart from a Mckinsey report which talks about the typical buying journey for a customer in banks.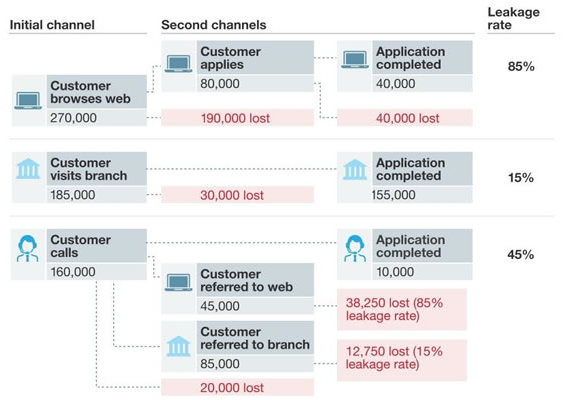 Exhibit from 'Digitizing the consumer decision journey' by McKinsey
According to this, in banks, customer leakage rate in the buying funnel varies from 15% to 85%. My particular if I can relate to this flow chart falls in 190,000 lost opportunities. Now just imagine these lost opportunities in business value terms for the financial services brand. So, it has become extremely critical for marketers to act on the triggers through which the user is interacting with their brand to reduce this leakage.
So overall identifying these triggers and using them for meaningful interactions with users can help financial services marketer to –
Increase Prospect Conversion Rate
Increase Customer Retention Rate
Improve Customer Life time Value
How can this be achieved?
The Answer to this is "Customer Data Platform".
Gartner defines "Customer Data Platform (CDP)", as a marketing system that unifies a company's customer data from marketing and other channels to enable customer modeling and optimize the timing and targeting of messages and offers.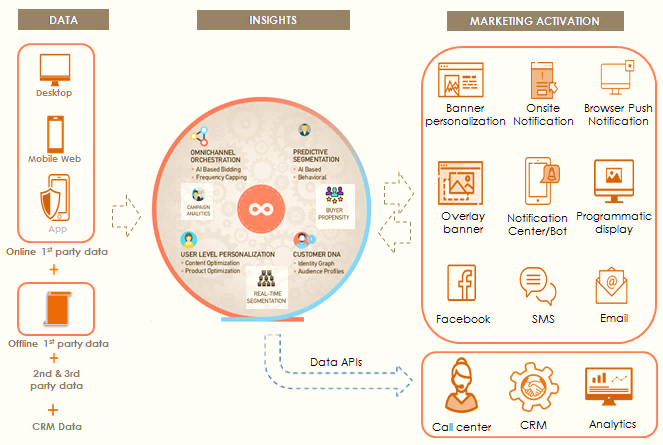 Pictorial Representation – Lemnisk Customer Data Platform
By integrating customer data sources into a single, centralized platform it is easier to derive actionable insights which are far more accurate. Because of this integration of all data sources (Behavioral Triggers, CRM data etc.), a single source of truth (customer one view) about every user is always available which makes it possible to drive all decision-making through targeted marketing campaigns.
Overall, integrating the use of customer triggers helps to streamline your marketing efforts, but more importantly, it creates a better customer experience as you listen and respond to the needs of your customers.
To know more about Customer data platform and how it can drive double digital growth for your brand, please do write to us at marketing@lemnisk.co.
Registrations open for Customer Data Summit 2018. Come and be a part of a forum of leading financial services marketers from India, Dubai, and Singapore. Learn about CDP and its application and benefits from David Raab, Founder CDP Institute.
By Abhinav Mittal | Director, Customer Success at Lemnisk