Lemnisk hosted a Customer Data Platform (CDP) In-Person Summit for the India region on June 8th, 2023 at Hotel ITC Grand Central, Mumbai. The CDP Summit's aim was to make enterprise marketers understand how they could supercharge their marketing ROI using CDP-led hyper-personalization. This article focuses on the fireside chat with Abhishek Biswal, Business Head, Airtel Digital.
Abhishek joined Airtel after spending 15+ years in several roles across the Middle East and India as a product head, business leader, and entrepreneur, in industries spanning construction, travel, real estate, and telecom. Prior to Airtel, Abhishek worked in companies such as Housing.com and Tripvillas. In his past roles, Abhishek has launched global-first and cutting-edge B2C/B2B products and has scaled businesses globally across both offline and online channels.
At Airtel Digital, Abhishek is responsible for heading:
Businesses of Airtel Ads (Advertising), Airtel IQ (CPaaS), Wynk Music & Xstream Video (Entertainment).
Product for Airtel Digital's investments in Advertisements, CPaaS, Entertainment, Payments & Financial Services.
Abhishek is an alumnus of the Indian Institute of Technology, Bombay.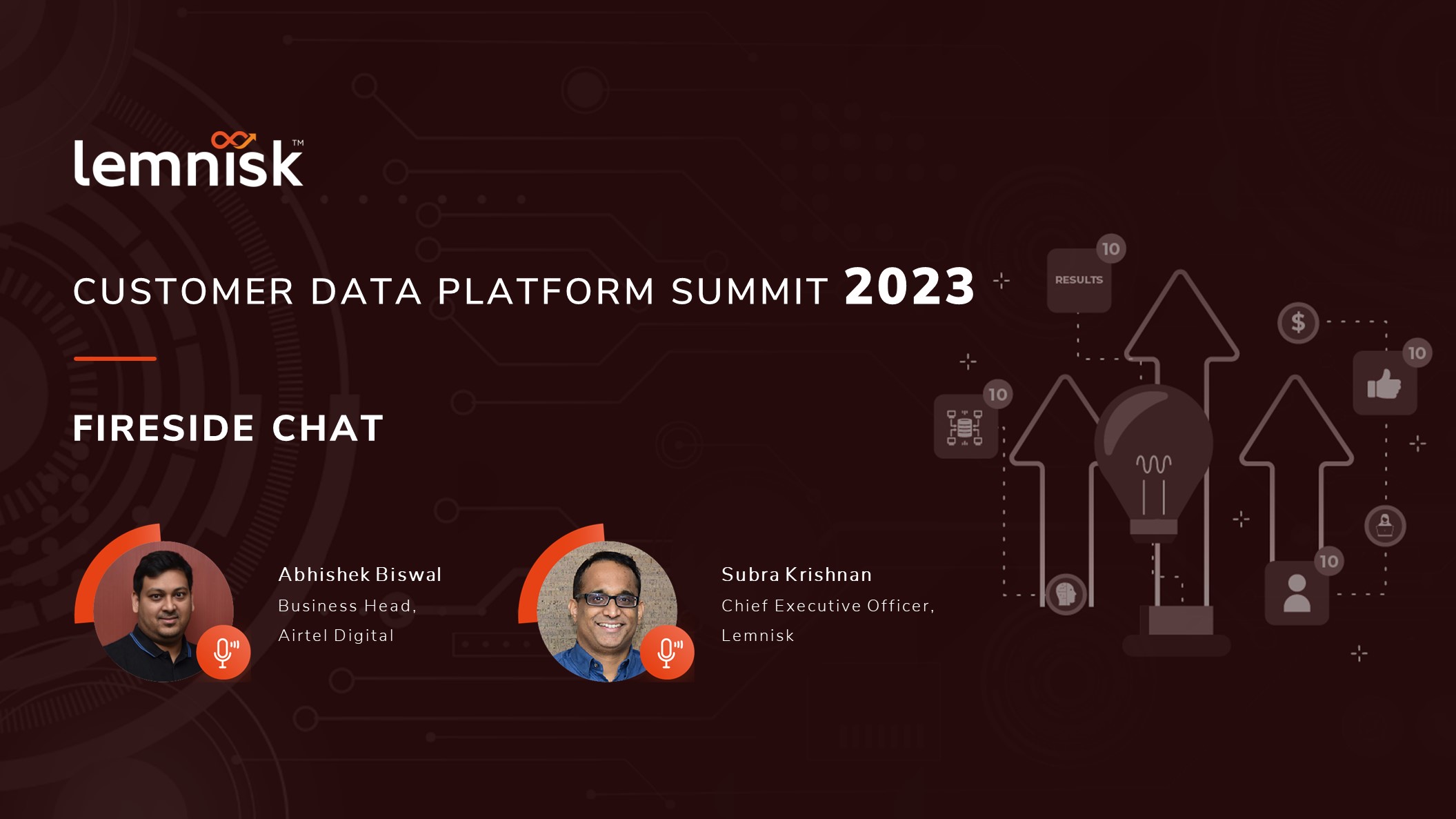 The key insights from the fireside chat are as follows:
Fireside Chat with Abhishek Biswal
1. Airtel is a behemoth with 375 million customers and operates at an entirely different scale. Can you please help us understand this scale?
I think, from a "number of customers" point of view, Airtel is a fairly large enterprise. We have in excess of 350 million consumers in our B2C business, and about a million enterprises in our B2B business. When we look at the scale at which we manage these customers, or interact with these customers, you have to look at it from a number of interactions point of view. That's where the real scale starts.
If you look at our digital footprint, which is all our digital channels, we talk to about 150 million consumers every month. And this is essentially across our web app. We get about 200 million walk-ins across our recharge points, which are a point of sale. We get 3 million walk-ins into all our experience zones, monthly. In addition to this, we get 2 million calls a day at each one of our contact centers.
Now what happens is these are big numbers. The challenge always for us has been each one of these interactions is essentially a cost to the organization. A call costs us about 80 rupees. Now, if you look at the US, if we had their ARPUs, we would have been happy doing a third of that customer base. But if you look at our customer base in India, our average ARPU is shy of 200 rupees a month. If a customer calls our contact center once a month, they eat away all the money that we hope to make from that customer. So it's extremely important for us to understand every interaction, predict it, and shorten it.
Now, this is easier said than done because you are looking at trying and understanding the entire customer history in that little cusp of a call that we get. We are picking up data across our CRMs across every touchpoint in the last 7 to 10 days that the customer may have interacted with. We also give enough information to the person answering the call in the first 8 to 10 seconds to be able to answer the customer's query. I think this is where the scale really goes bizarre.
You've called one of our contact centers. You've asked for a resolution. Let's say it did not get resolved. And you then walk into the store closest to your house, maybe two days later. Your expectation is, "I have spoken to somebody at Airtel. I don't care how the store person does not know about it." Hence, just stitching this to the contact center across each of the channels that we have makes it really large and that's the scale we try and solve for. So it's not 350 million. It's essentially solving for the 8-10 interactions per customer per month and stitching that. That's the problem and that's the scale of work that we are grappling with.
2. Can you elaborate on Airtel's B2B business such as Airtel Digital, Airtel IQ, Airtel Ads, etc.?
Airtel Digital is a fairly new concept for Airtel. Although Airtel is a 25-year-old company, the digital arm was set up five years ago. We looked at what strengths Airtel as an organization has built over 15 to 20 years. And clearly, the network was a strength. We were one of the largest fiber-in-the-ground companies. We were one of the largest radio tower companies because that's the kind of infrastructure we had built.
To build a digital business, we actually stepped back to see what strengths we have and what adjacencies we can actually play in on these strengths. And then really understand if those are viable businesses to be built or not. Do we have the product know-how? Do we have the GTM know-how? And then can we really extract value from them?
Now, fast forwarding these five years since we started digital, we today have a flourishing entertainment business – Wynk for music & Xstream for video. We are the largest CPaaS company in India. CPaaS is our programmable APIs for communication. We are the largest IoT connectivity player in the country. The good part is that there are only two other players. So, that wasn't too hard. We also started an Ads business, which is primarily an audience monetization business.
3. In a highly competitive environment or industry like telecom, how do you think customer experience acts as a differentiator? What kind of strategies do you employ to try and stay ahead of the game and keep innovating on the CX side?
We strongly believe that customer experiences are the primary driver of growth. We've seen this because we today command more than 60% of the high-value customers in India. And the reason why we keep calling this high value is, it's not prepaid or postpaid. It's just high-value customers. For example, somebody, who has got a handset which is of high value, someone who always travels and has consistency of income, etc.
And these are all data points that we collect every day about our customers. When we ask our customers, "What is your expectation from something like Airtel?" There's one statement that stuck with me. "We think of telecom like electricity and water, it should never switch off. If I'm paying my bills, it should just work." Imagine when you get home after work and you're hoping to do a Zoom call or maybe watch a movie. And the internet does not work when you get home. Your expectation is even before I enter my house, my WiFi should be connected to my phone and it should be working. So the fun part is, people only call us or people only remember us when we don't work for them. It's a tough industry to be.
We've got to work very hard so that they don't really think of us as something that doesn't work. Therefore, in this space, we go to the extent of measuring calls per customer and we take pride in bringing that metric down month-on-month. Hence, we did two things in our organization.
One is the mindset. There are only two teams at Airtel. There is a team that works for our customers which is all our front-end teams, whether in B2C or B2B. And the second is everybody who works for the team works for the customer. If there is a customer escalation and our front-end team escalates it, it could be to any one of us. And we will prioritize that over everything else in the day. So that's the mindset change that we brought about.
The second is process. Our process was very simple. We broke down the customer life cycle to every interaction, every minute, every time a moment of truth happens. And we solve for it. So it's the reason why we had to do this, and it sounds very trivial. But it was very difficult because we were a legacy organization. We weren't born digital. A lot of our processes were still pen and paper. A lot of our processes were sending out an email and getting somebody to read the email and then action it. If you don't bring about a cultural change in the organization, it's not easy. And I'm talking about 20,000 employees, 80,000 total people working across the country.
4. When you think of crafting a change at the next level, in terms of the underlying digital aspects, workflows, etc. how do you solve that? What are some of the learnings, and best practices that you can share?
We have multiple businesses. If you look at our B2C side, we have our mobility business, we have a broadband business, and we have a DTH business. Very interestingly, the teams are all different. And they have CEOs, they have marketing heads, they have their product and engineering teams. Five years ago, everyone had their own product engineering teams. But to the customer, they were still Airtel services. We were fragmented to the extent that if you walk into one of our stores that sells mobility and you ask them, can I also get your broadband business? They will tell you that they are sorry and cannot solve this query. They will ask you to call 121 which is our contact center. We were fragmented to that level.
What we did was solve it in two ways.
The first way was that the customer was an Airtel customer. He or she was no longer a broadband customer or a DTH customer. This needed us to make a large change in how we recognize customers. And even our underlying CRMs were separate. We had to bring that together and ensure we created one customer database, which was available to everybody. And this is a massive change.
That's because it's a lot of customers, but it's also multiple organizations, and they're all regulated. So mobility is a regulated organization. Fixed Line is a different regulated organization. DTH is a different ministry of regulation. We had Airtel Payments Bank, which is another different regulator. So just getting this data to create one customer profile was one job that we undertook. And in order to make sure this happens, we said, "Let's create one data lake, which has got all of this data and we will figure out how to migrate from these multiple spaces, laptops, desktops, servers that we have data on and bring it to one data lake."
The second way was that we also merged our product and engineering organizations. We said that there will no longer be these verticalized product organizations, and they will all be horizontal. We will move to a platform and federated audience model, where customer data is going to sit at the bottom. And each organization can use this data. And when they use it, they will also have to commit back to what they've learned from the data and how they've used it. This allows you to do better segmentation and better targeting the next time. As an organization, almost always, every new product has at least two channels.
If you want to buy broadband from us, irrespective of the channel you buy broadband, somebody will come home to install it. In DTH similarly, every time you have a fault, you will have to call somebody home. Every time you want a SIM, even if you order this online, somebody will come home to do a KYC. So we said we would also have to become omnichannel, which means you can start anywhere and finish anywhere on every journey, whether it's acquisition or experience.
5. When you have a broader set of customer experiences and you still have to stitch them together with the kind of an underlying CDP you have in place, how do you take care of that?
What we've created is a customer flywheel for ourselves. It starts from search to discovery to acquisition of a product to onboarding, experience, and complaint management. Eventually, the idea is to take every customer and make them a referrer. This flywheel essentially means that if we can figure out how a customer progresses from step A to B and then to C, and D, a large percentage of customers will keep being happy and then become our referrers. So what we've done is we've essentially mapped out this customer life cycle across every possible journey in every possible fallout in our decision tree.
Every time we have a new use case, we go back to our CLM and we map these journeys out. This becomes what we call our central brain to everything and anything that happens. Every feature, every channel, and every application will then dip in to see what kind of orchestration is needed for this particular use case. Only then they would go and react.
What happens is, you have some large boxes at the bottom. You have your customer profile, you have your customer data platform, where every trigger comes in and enriches the profile and you have your journey design or what I call your order orchestrator. Now, you have a framework that any order can get personalized for this customer across any channel. It took us some time to understand and abstract this architecture from what we otherwise called siloed workflows.
We decided that a customer cannot get a communication if that communication is not registered in the central framework. Think of a reactive data pipeline where signals keep coming about everything that the customer is doing. You then prioritize what is the next best action for that person and not for the internal business use case.
6. How are you planning to leverage a CDP in this entire ecosystem? Just talk a little bit about the build versus buy thought process. How do you envision a CDP sitting amidst all of this "orchestration" and "one view"?
I run a CPaaS business which means I make money every time an enterprise sends out a communication to their own customer. Every time you send out a message to your customer, I make some money. Every time you call your customer, I make some money. Every time you send out a WhatsApp message to your customer, I make money, and so on. There's another set of businesses that I run, which is a data monetization business. We have 350 million customers active, and another 300 plus million customers who are not with us, but we have enough enriched profiles.
We've built social graphs and several points of interest for them. Assume that I have a workload manager, which means whenever you want to send out a message, you can. I have a set of customers and their data to the extent of what they are interested in. The center box that can actually bring all of this together is a CDP. So I think it's natural for us to understand the value and work with you guys for a product like Lemnisk which is the heart of orchestration for a lot of this business. If you notice, when I talked about a place where a workflow is defined and every signal is brought in and stored, and then a decision is made on what to do next, that is a CDP that we've built at scale for Airtel's use.
We're very cognizant of the fact that we don't want to build everything. I would rather only focus on building the core strengths that we have, and for every little dollar that we get, I would put out a radio network or a fiber channel. For us, prioritization of where we spend comes first. We are a company that does not have other companies to fund our losses. We have to make all the money that we spend. So I think we are very particular and clear about where our investments will go in.
When we met Lemnisk the first time, I think using your technology for a lot of our internal use cases as well as partnering with you for a lot of our enterprise use cases was a no-brainer.
7. Everything that you do at Airtel, you eventually see sort of being made available to all of your B2B customers. What are the things that you believe you know your B2B customers can expect this year from Airtel?
We are in the connectivity business and we'll keep doing that. One of the things that you can expect is our martech piece. I think what we've done over the last five years with either our contact center technology or the way that we go to our own customers, which is our internal CLM, and the way we interact with some of these customers across our channels. That's something that we definitely want to share with the enterprises.
I'll give you a very small example of what you can use these products for. Imagine you're sending out an important message to your customers, globally. You try sending out an SMS and it doesn't reach them. For some reason, you try out a call and the person doesn't pick up the call because they're probably on international roaming. You would rather send a WhatsApp message. You can use a single API to attempt an SMS. If it doesn't get delivered, you will attempt a call. If the call doesn't get picked up, you will send out a WhatsApp message. So essentially it's an omnichannel orchestration saying if event A does not come as delivery of a particular channel, fire event B, fire event C, etc.
This is something that we want to take to market almost immediately. I think it's a very simple, straightforward product. By the way, this is a product that we built with Lemnisk and it uses their CDP technology. Similarly, you can also look at growth where we can bring in our audience to enrich a set of customers that you have and then keep marketing.
The second product line is essentially our contact center or our voice technology. I think that's something that we've scaled significantly. And voice is our bread and butter. We've gone to the extent where we now can deliver a contact center voice product with analytics, sentiment analytics, text, and voice-to-text. We will pick out buzzwords in the call that may or may not need to be spoken.
I'll give you a very small example of this product. We have 8500 contact center agents. Just to manage these 8500 contact center agents, we used to have 300 audit agents who could barge in the call if it wasn't appropriate or if the customer was angry or something. We today have zero audit agents. We have nobody to barge in the call. We do analytics on the fly, on the call, and we do a sentiment analysis. If we look at either the agent being stressed or the customer being stressed, we mark this to the team leader. Our entire training program is driven by just this product. So we're now scaling this on every number that businesses take from us.
By Bijoy K.B | Associate Director – Marketing at Lemnisk