A great digital brand experience always stays in the mind of a consumer. In fact, the probability of the consumer to revisit a brand's digital portal to get the same experience is very high. A consistent brand experience goes a long way into converting the consumer into a customer. At the same time, the person becomes the brand's advocate and, in turn, helps in drawing and converting more customers to the brand. 
The question then arises, how can companies strive to create outstanding brand experiences? We recently had an insightful discussion regarding brand experience with Vaasu G, Chief Digital Officer, Royal Sundaram General Insurance.
Vaasu is extremely passionate about creating best-in-class data-driven omnichannel customer experiences. He's an insurance industry expert having led large-scale digital initiatives at AXA, IAG, and Insurance House UAE. Vaasu's professional career has been built on a very strong foundation of working with global digital agencies and internet businesses like Lintas, TWA, McCaan, Bates, and Yahoo. He has displayed an entrepreneurial spirit as well by helping multiple startups. He has also authored book titles "Digital Lipstick on a Legacy Pig!: A Practitioner's Personal Notes on Digital Transformation".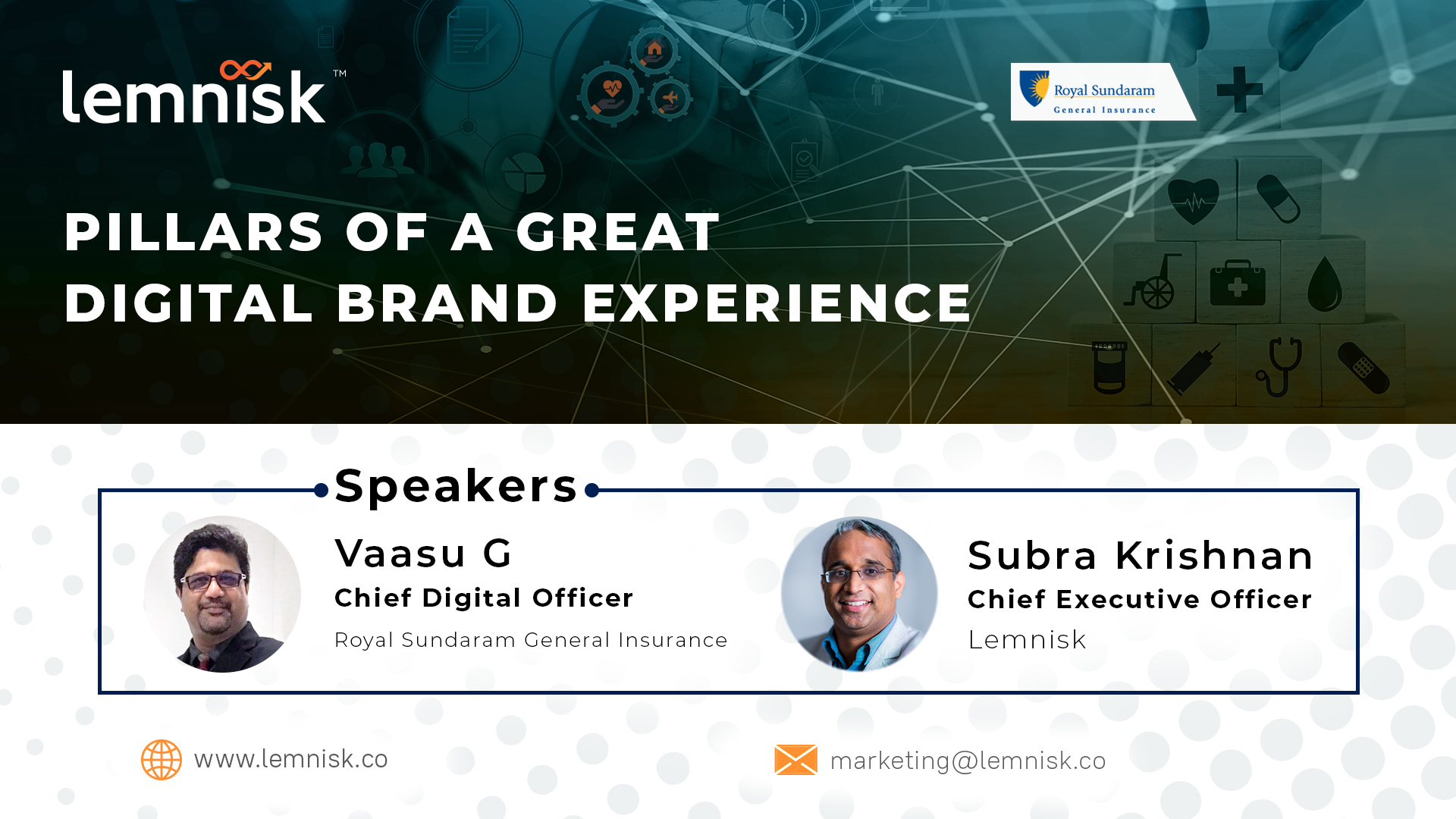 Vaasu currently leads the digital mandate at Royal Sundaram General Insurance as the company's Chief Digital Officer. In this discussion with Subra Krishnan, CEO, Lemnisk, Vaasu delves into the pillars that constitute a great brand experience.
Let's take look at some of the important insights from the discussion:
Pillars of a Great Digital Brand Experience
What are the challenges for enterprises to adopt a digital transformation strategy?
The understanding between IT and digital isn't very clear for enterprises
Digital is packaged as part of IT and not as a separate initiative. This causes confusion among the management and employees regarding the differentiation between digital and IT.
Most enterprises are inward-looking and not consumer-centric. They are more focused on selling their products and services to their customers. They aren't focused on delivering a good digital brand experience to consumers.
What are the pillars of digital transformation?
1. The consumer or the customer should be the main focal point for an organization.
2. The CEO should have KPIs, allocate budgets, and set up a separate team for digital
The company management should issue a strong mandate to adopt digital. And it should be a top-down approach and come directly from the CEO.
3. Digital should be an independent unit within an organization
It should be crafted separately from IT. The independent digital unit should be given the authority to act and make decisions in a responsible and profitable manner under the governance of the CEO or the management that is overseeing this unit. Otherwise, there will be a conflict of philosophies, conflict of standard operating procedures, and conflict of egos between employees. 
4. Performance KPIs should be added to every employee with respect to digital
Doing this would ensure that the employees take digital more seriously and work towards enabling digital transformation.
How can companies balance revenue with customer experience?
Digital opens up new audiences that are not available to traditional channels. It unlocks new revenue streams and product innovations. The revenue accrued from digital does not cannibalize the revenue accrued from current channels.
Consumer/Customer experience in B2B will not impact revenue. The better the customer experience the more revenue a company can realize. The digital experience is the brand.
How does digital merge effectively with traditional channels?
In a tangible product world, the perfect intersection between digital and offline are Click & Collect or Kerbside Pickup. Customers can order online and come and pick up the product at the store in-person. This is an example of a perfect handshake between the digital and real worlds. 
Coming to call centers or BPOs, the next revolution is coming. To survive in the future, BPOs need to watch out for 2 things:
They need to re-look at their cost structure

From a digital point of view, Artificial Intelligence (AI) & Natural Language Processing (NLP) will play a major role in reducing headcount and boosting efficiency 
By Bijoy K.B | Senior Associate Marketing at Lemnisk
One response to "Pillars of a Great Digital Brand Experience"