Banking marketers want every customer touchpoint to be a potential selling point. But, in order to do that, they need to have in-depth knowledge about the customer which would help them in delivering the right offer on preferred customer channels. However, when it comes to banks, there are millions of customers. It is practically impossible to track and understand each customer's buying propensity, behavior, and purchases.
One good thing about banks is that they are quite rich in first-party customer data. If banking marketers can find a way to leverage this data to know customers thoroughly, they can glean valuable insights that can be used for customer targeting. This is where a Customer Data Platform or a CDP comes in.
A CDP is the perfect martech tool that can help banking marketers manage their customer data efficiently. It does this by accumulating data from various data silos and then unifying them under each customer's profile. With this single customer view, marketers can clearly discern a customer's journey right from the beginning of their interaction with the brand to their latest activity. Armed with the knowledge and insights from the CDP, marketers can target personalized messages for every banking customer at the right time and on the right channel.
Here are 6 CDP use cases that banking marketers can implement for their respective organizations:
6 CDP Use Cases for Banking Marketers
1. Repeat Website Visit
A user decides to re-visit a bank's car loan page to check his eligibility. As this is his second visit, he can be welcomed with a personalized homepage banner of the car loan which when clicked, takes him back to the page from where he dropped off earlier. This is possible because the user's past website activity is already recorded in the CDP. The marketer can, therefore, tailor a personalized message based on the customer's buying intent.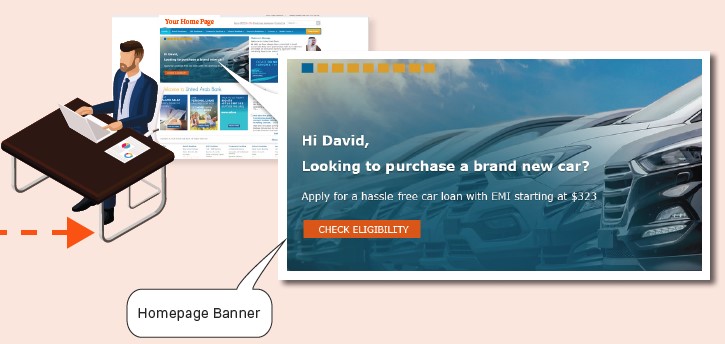 2. Online Loan Application
A prospective user visits a bank's website to look for a personal loan. She checks out the interest rate and drops off. The bank's marketers can bring her back to the website by sending her a personalized message via a browser push notification regarding the loan.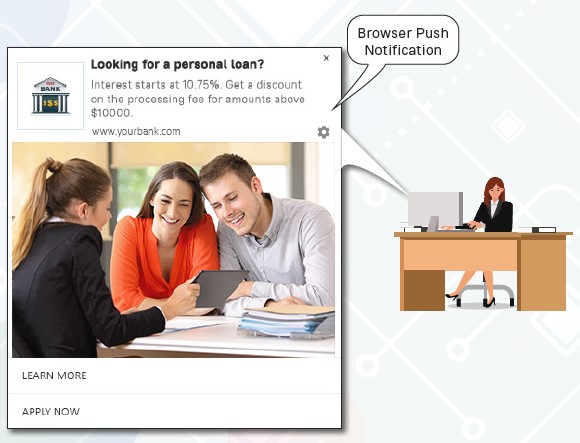 3. Pending Documentation Reminder
A prospective user is midway in the buying journey for a home loan. He has filled in his details and has to upload his documents. But he decides to drop off from the site. This website behavior of the prospect is stored in the CDP. Using this information, marketers can then urge him to complete the documentation process via personalized email or SMS messages.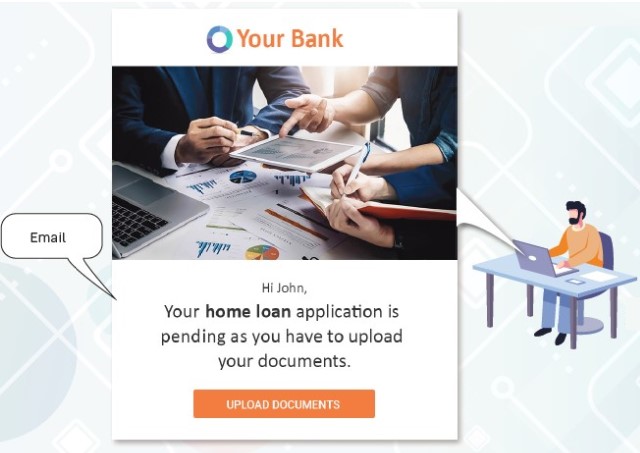 4. Birthday Offer
A customer visits the car loan page on the bank's website 7 days before his birthday. He receives a birthday special offer personalized for him via a notification bot or a homepage banner. A CDP's unified user profile can be used by banking marketers to craft a hyper-personalized birthday offer that increases digital user engagement.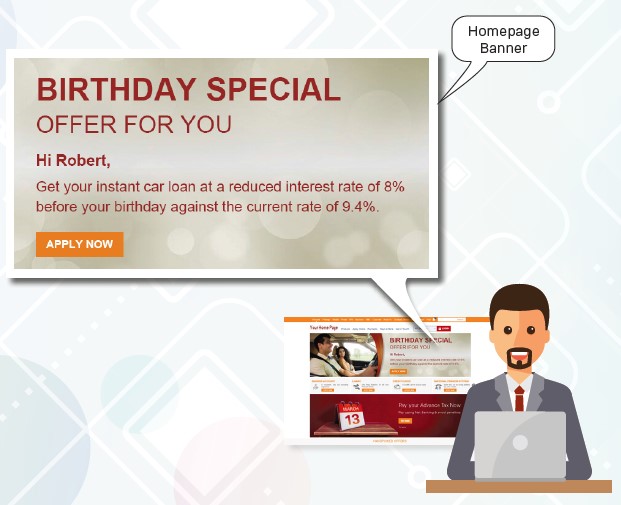 5. Up-Sell/Cross-Sell Offers
A customer who has a good credit score is shown a personalized free upgrade on his existing credit card via an onsite notification or a homepage banner. Using the CDP, a bank's marketers can easily identify customers who have a good credit score. Based on their interests, 1:1 personalized credit card upgrade offers can be pushed to each individual customer.
6. Calculated EMI
There will be users who revisit a bank's website after having previously calculated their home loan eligibility. These users can be shown a personalized homepage banner that displays their calculated EMI. Clicking the banner will take them back to the loan application page. In this use case, the CDP makes it easy for banking marketers to shortlist users who have dropped off after calculating their EMIs. Each user can be targeted with their own personalized EMI message via their preferred channels.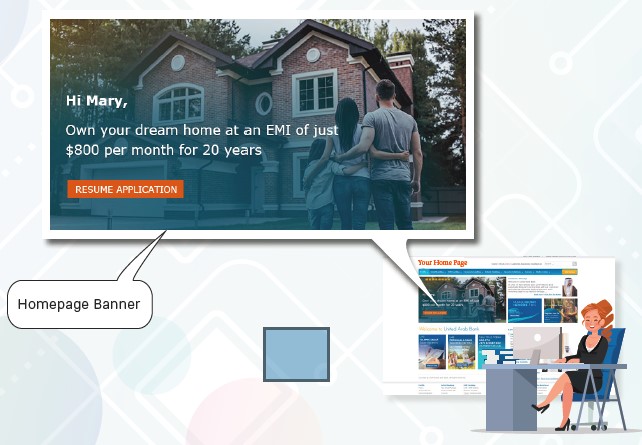 Get access to 14 more CDP use cases for the banking industry by downloading the following e-book:
By Bijoy K.B | Senior Associate Marketing at Lemnisk
2 responses to "6 CDP Use Cases for Banking Marketers"