Lemnisk hosted a Customer Data Platform (CDP) Virtual Summit for the Middle East & Africa region in February 2021. As part of this summit, we had an enlightening fireside chat with industry leader, Banali Malhotra. The topic of this session was Transformative Martech Leadership.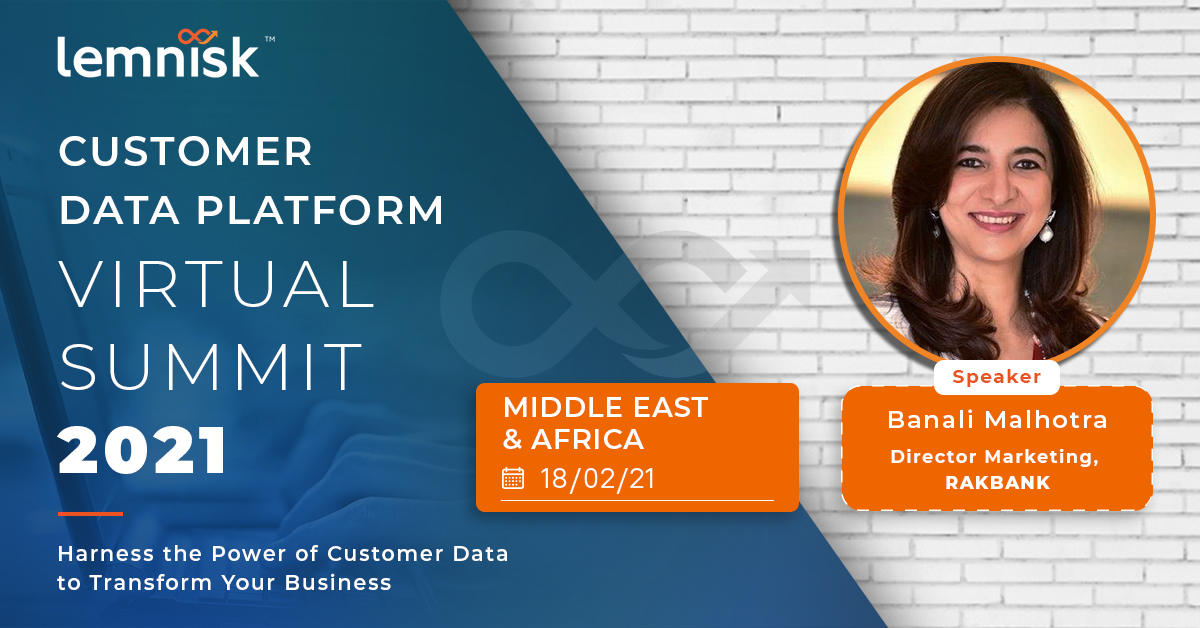 As Director- Marketing at RAKBANK, Banali Malhotra is responsible to grow RAKBANK's brand dominance and drive innovative marketing strategies.
With over 20 years of experience across regions, she has successfully launched several campaigns and products that have earned many international accolades like the Summit International Creative Awards and Advertising Campaign of the Year award by the Asian Banker. Her interview is featured in Oxford University's Marketing textbook showcasing RAKBANK's success story.
Under her leadership, RAKBANK has embarked on data-driven marketing to accelerate its digital maturity and growth. She's a regular contributor in the marketing press and has served on the juries of prestigious awards like Effies MENA, Festival of Media, M&M Global, MMA Smarties MENA.
Her life story has been showcased in the inspirational book "Break the ceiling, touch the sky" by best-selling author Anthony A. Rose. She was conferred the title of "Asia's Most Influential CMOs" (GCC Edition) in 2015 by Asian Leadership Awards and "GCC's Best Marketer" in 2016 by the Middle East Leadership Awards. She was also felicitated among the nine top Unstoppable Women achievers of Dubai.
Here are some of the key takeaways from the discussion:
Transformative Martech Leadership
How can marketing leadership be demonstrated in a crisis like the COVID-19 pandemic?
The need of the hour for marketing leaders during a crisis is to respond suitably and sensitively. At RAKBANK, we have a guiding principle of communication comprising of 4 C's – Cheeky, Combative, Clear, and Confident. With the rise of COVID, we introduced a 5th C – Care. We encouraged our customers to be safe and for a brief period we even changed our tagline from "Simply Better" to "Simply Safe".The underlying principle here was to showcase empathy to the terrible situation presented by the pandemic. 
The next focus was to educate customers on what were the different digital channels and options available to them. Contactless payments became a huge hit during this period. We also introduced a mobile app called "Skiply" to encourage parents to pay school fees from the comfort of their homes. This app was highly valued and appreciated by our customers and it resulted in accelerating growth during the pandemic.
What are ways in which you have used customer data and what results have you seen?
Marketers often use the phrase "Customer is King". Along with this phrase, I would like to add that "Data is Queen" and the two must marry.
We understood the importance of how first-party data can be leveraged to improve customer engagement. By investing in martech tools such as Customer Data Platform (CDP) and Data Management Platform (DMP), we ensured that we could deliver personalization to customers with the right message at the right time and on the right channel. As a result, we saw a 9x  increase in engagement and an 8x rise in lead conversions. We have also invested in AI which has helped us in improving precision-based targeting. 
Why is it important for marketing leaders to be aware of new technologies and how can they utilize them to navigate the new normal?
It has become important to be aware of new and upcoming technologies because the customer expects it. They have become accustomed to digitally interact with brands and hence they expect them to deliver great digital experiences. Therefore, marketers need to ensure that they can meet these expectations. This is where it becomes critical for them to invest in new technologies.
In this new normal, marketers don't have a choice. It's not about when they can implement new technologies. It's about when and how soon they can implement them. However, the key is to identify the right technologies that can help in meeting customer expectations and solve the marketing pain points & challenges. As technologies keep changing, it's important that marketers keep up with the pace which can give them an edge over their competitors.
What is it that you look for when you select a martech partner with respect to the technical & non-technical aspects?
On the technical aspects, our operating principle is to identify and work with the best martech partner in a particular function. This allows us to have a blend of best-in-class solutions. And this model also ensures that there is seamless integration and compatibility among these martech stacks which enables them to talk to each other.
From a non-technical perspective, there are 3 Ps that we look at – Product, Pricing, and People. Product and Pricing are vital to understand what objective the partner aims to achieve through their product and at what price and what is the ROI on that price. The next critical factor to look at is People. Once you have the objective and vision in place, it's you and your partner who are going to make it happen. You need to have that combined vision and mindset between both teams to ensure that you are on the same path.
By Bijoy K.B | Marketing Manager at Lemnisk