Lemnisk hosted a Customer Data Platform (CDP) Virtual Summit for the India region in February 2021. The summit's aim was to make enterprise marketers understand how they could transform their business using customer data. It comprised of two insightful panel discussions with leading industry leaders. This article focuses on the second panel discussion titled: The Rise of the Super Intelligent Marketer.
The panel members were Sapna Desai, Head – Marketing and Online Business, ManipalCigna Health Insurance, Vaidyanathan Ramani, Head – Products & Innovation Centre, PolicyBazaar, and S Swaminathan, Executive Director – Group Strategy, R K Swamy-Hansa Group.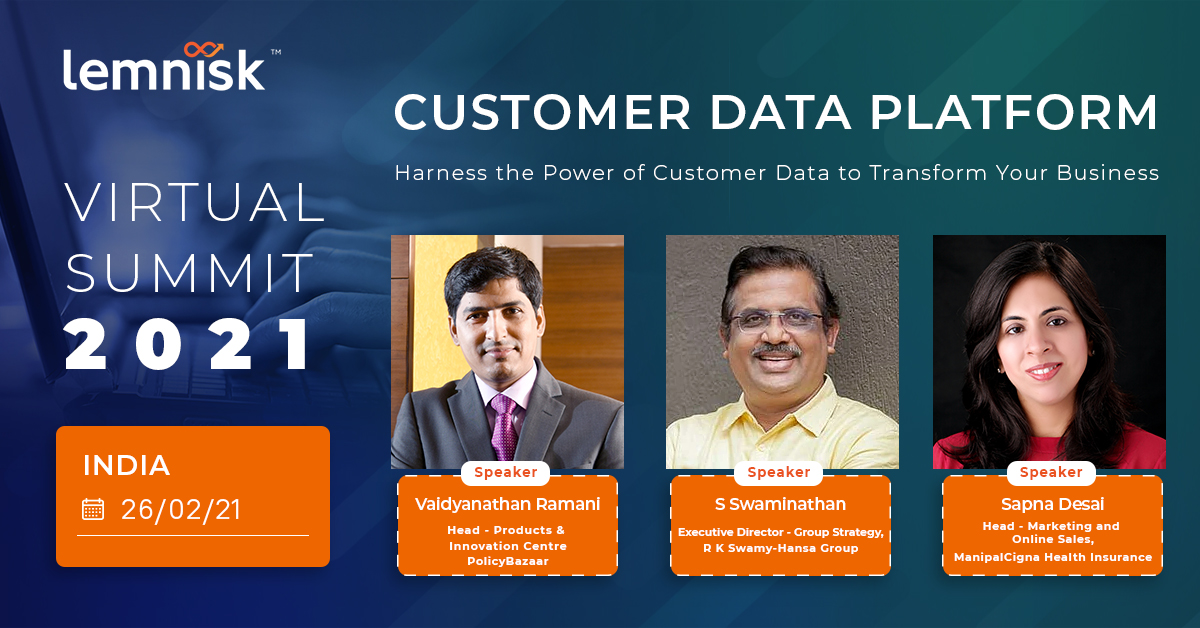 Here are some of the main takeaways from the discussion:
The Rise of the Super Intelligent Marketer
The definition of marketing has changed during the COVID pandemic. It has become all about the experience that the customer gets from a brand. It has moved from a transactional perspective to a relationship-driven perspective.
Consumer behavior has changed where they are researching more about financial products online. They have become more digitally-empowered.
With respect to adopting Artificial Intelligence (AI), marketers need to look at two things:
There needs to be an enterprise-wide strategy with respect to AI and the leadership team itself should drive it.

Identify marketing gaps that can be filled using AI.
Top areas where AI can help marketers:
Prospecting and top of the funnel activities such as increasing customer acquisition and reducing the cost involved in it, reducing the customer retention cost, etc.

Information Sourcing that feeds the above 2 points

Improving the quality of the business in terms of getting quality leads

Improving customer service and experience
3 digital trends to look out for in the future:
There will be early adopters who will demand privacy over other marketing aspects

Voice and video marketing will explode from a transactional perspective

Enterprises will start to have a connected strategy with respect to customer experience, marketing, sales, operations, service, etc.
By Bijoy K.B | Marketing Manager at Lemnisk