Personalization has nowadays become a basic consumer expectation. As marketers compete with each other to deliver the best-personalized Customer Experience (CX), the stakes have drastically risen. Real-time personalization is the new kid on the block. Those marketers who are able to achieve this are held in high esteem by their customers.
Recently, we had an insightful thought-leadership session with Gaurav Gupta, Head of Omnichannel and Martech Platforms, Circles Life. He has over 16 years of experience in various senior management roles related to marketing and advertising. In this exciting discussion with Subra Krishnan, CEO, Lemnisk, Gaurav explains how real-time personalization can power enterprise customer experience.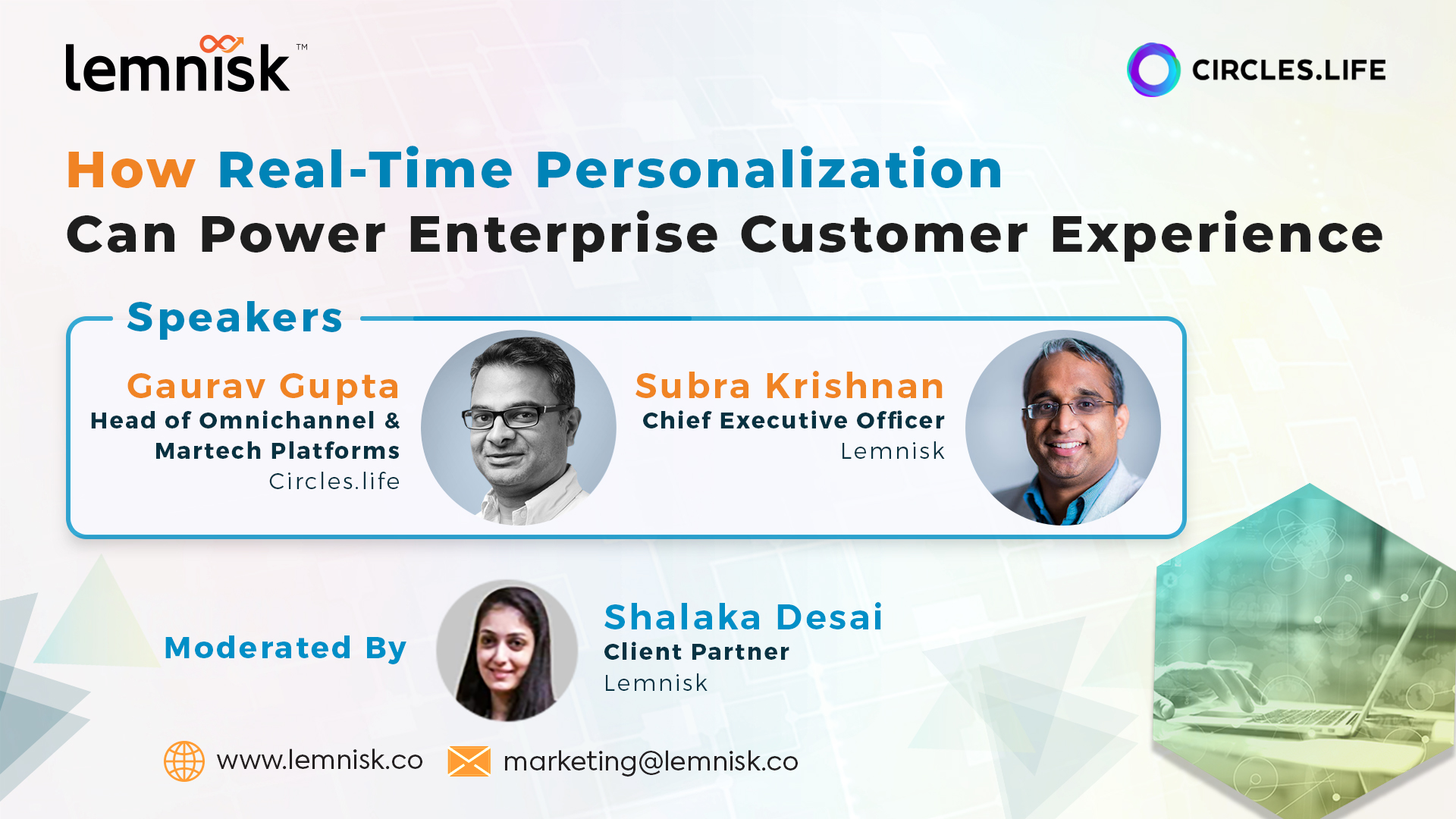 Here are some of the important insights from the discussion:
Advertising has evolved from normal display ads to persona-based ads to finally intent-based ads.

Customer Experience has to transcend from intent-based advertising to intuition-based advertising. This is where marketers need to leverage technologies such as Artificial Intelligence, Machine Learning, etc. to identify the right intent state of the user.
The changes in the martech industry are on three fronts:
Paid spends have become more accountable

The emphasis on CX has become really high in terms of personalization and data privacy

Machine Learning and AI have become a lot more prevalent
To deliver a great customer experience, all marketing tools and systems should be able to talk to each other. This means that there should be a smooth flow of data between them. To achieve this, marketers need Real-Time Interaction Management or RTIM.
RTIM is a core CDP capability that can power the right channel at the right time with the right message. It goes hand-in-hand with capabilities such as identity resolution, centralized one view.
Real-time personalization cannot happen without real-time data ingestion into the marketing stack.
Tips for marketing leaders for creating the right CX:
Harness PII (Personally Identifiable Information) data

Layer the PII data over a platform that connects into various digital channels

Create a unified user view

Enrich the unified view by integrating with third-party providers
Frameworks for evaluating CX tools and martech vendors:
There should be a two-way data flow in real-time between systems

A lookalike modeling should be available at the CX platform's end

The CX tool should have a universal way to ingest data from different sources

An important aspect for a CX or martech vendor is the ability to build strong client relationships

A martech vendor's USP should be to care for their clients' business

Quality of service is going to be a determining metric for evaluating vendors

Vendors should be agile, own customer goals, and be proactive in consulting with the client
The future of CDPs is going to be driven by Machine Learning where customers and vendors are going to closely collaborate to make it happen.
By Bijoy K.B | Senior Associate Marketing at Lemnisk