The Financial Services sector has undergone a radical digital transformation in recent times. This change can be attributed to the popularity of services such as digital banking, online trading, and online insurance schemes. Going the digital way has also resulted in the generation of large amounts of digital data. As the industry is highly data-driven, it becomes cumbersome to manage both offline and online data.
To analyze and make sense of the data, financial services marketers are turning towards digital technologies such as data management platforms (DMP) and customer data platforms (CDP). Integrating these technologies with business objectives help in minimizing costs and improving customer experience.
DMP and CDP – The Champions of Adtech and Martech
Data Management Platform or DMP is one of the oldest digital technologies that forayed into existence a decade ago. It's a centralized platform that helps in creating a segmented target audience with the help of customer data. Now, almost every organization uses DMPs to power its programmatic advertisements on websites around the globe.
However, DMPs didn't have the means for true identity resolution and efficient data activation across multiple channels. This is where a CDP comes into the picture.
Customer Data Platform or CDP is a new digital platform that's generating a lot of buzz in the adtech and martech worlds. According to Gartner, CDP is described as "an integrated customer database managed by marketers that unifies a company's customer data from marketing, sales and service channels to enable customer modeling and drive customer experience". They are architected to accept a Big Data of information and act as a single point of data and control.
DMP vs CDP – Key Differences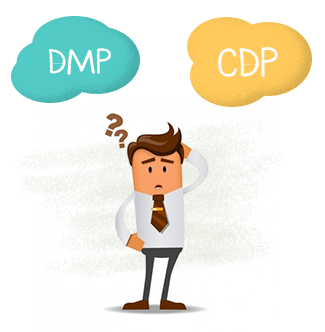 1. The Type of Data
DMPs primarily use third-party data from various data sources. For advertising, they target anonymous cookies. A CDP uses a company's customer data or first-party data and it consists of both anonymous and existing users' personally identifiable information (PII). The user information includes details such as the users' online and offline activity, their transactional data, behavioral data, etc.
2. Data Storage and Integration
DMPs can store user data up to 90 days after which it's replaced with new data. They also don't have the capability to create targeted ad campaigns for select audiences. They can only do it for an anonymous audience. CDPs store historical user data for long periods of time which makes them capable of capturing product or service transactions, customer communication and behavior. They can integrate both online and offline data and create a single user view for each customer. Targeted marketing campaigns can be easily served to select audiences.
3. Data Capture
When it comes to data capture, DMPs are good at keeping track of a user's activity. CDPs can augment and enhance this feature by analyzing the user's buying propensity and the affinity to certain marketing channels.
4. Channel Accessibility
DMPs are good for all digital channels where quick marketing decisions can be made to reach an audience. As CDPs are tagged with a unique customer identifier, they can allow access to offline transactional data, social media channels, and associate sentiments with customer behavior using intelligent algorithms.
5. Customer Acquisition
DMPs are mainly used to acquire audiences that are similar to the audience that has already been targeted. CDPs are used to build a long-lasting relationship with existing consumers through 1:1 personalization.
Also Read: Infographic- Major key differences between CDP and DMP
DMPs and CDPs – An Interdependent Relationship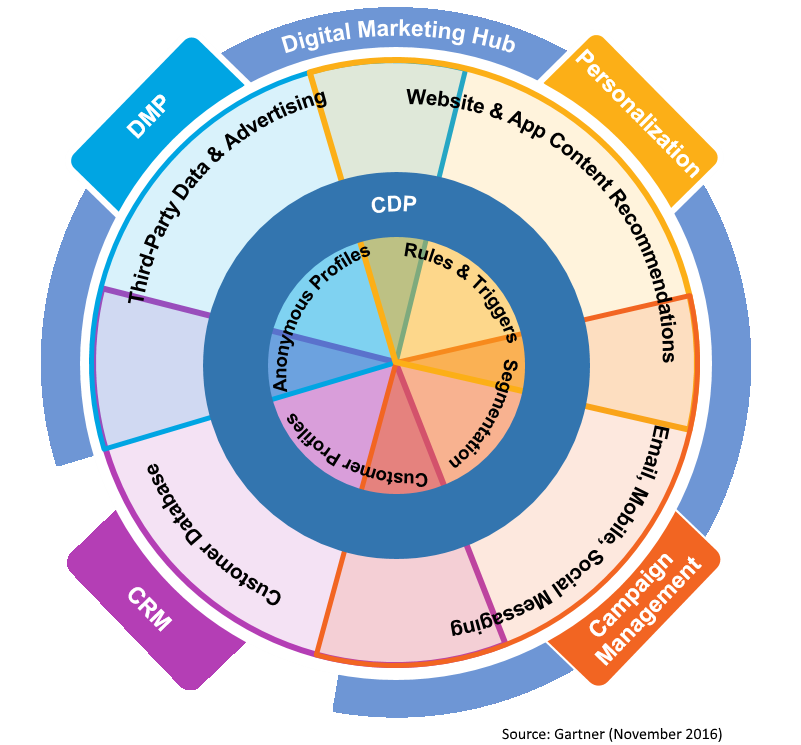 CDPs help improve conversion rates, customer retention and engagement with clients, whereas DMPs streamline the data, increase revenue, and target new audiences. However, both CDPs and DMPs have an interdependent relationship. For segmenting users better, DMP data can be fed to a CDP to actually enrich its own data. On the other hand, using CDP data within a DMP can help in targeting a particular user audience instead of a random anonymous audience.
Also Read: Why do Financial Marketers need a vertical-focus Customer Data Platform– Whitepaper
In the end, it all boils down to the specific use-cases in an industry. Financial Services marketers should thoroughly understand their marketing goals and objectives and implement either one or both the systems to achieve their targets.
By Bijoy K.B | Senior Associate Marketing at Lemnisk
One response to "DMP vs CDP in the Financial Services Sector"