Crafting a rock-solid martech strategy today depends mainly on the customer data owned by a company. It's with this data that marketers are able to drive their marketing goals and objectives. This wasn't the case earlier when digital marketing hadn't evolved to its current stature. Marketers had some basic information about the customer with which they used to power their marketing campaigns. Knowing what the customer actually expects from a brand involved painstaking data collection where marketers had to conduct surveys and polls in-person.
In the current scenario, the incredible growth of the internet has facilitated digital transformation across all industries. Businesses have gone completely digital. Customers are using digital channels as the primary mode of brand communication and interaction. As a result, companies are able to collect huge amounts of valuable customer data which if properly analyzed gives a deep-dive into the mind of the customer.
We recently had an insightful discussion with Darshana Shah, Head – Marketing & Digital, Aditya Birla Health Insurance (ABHI) on why customer data should be at the heart of a brand's martech strategy.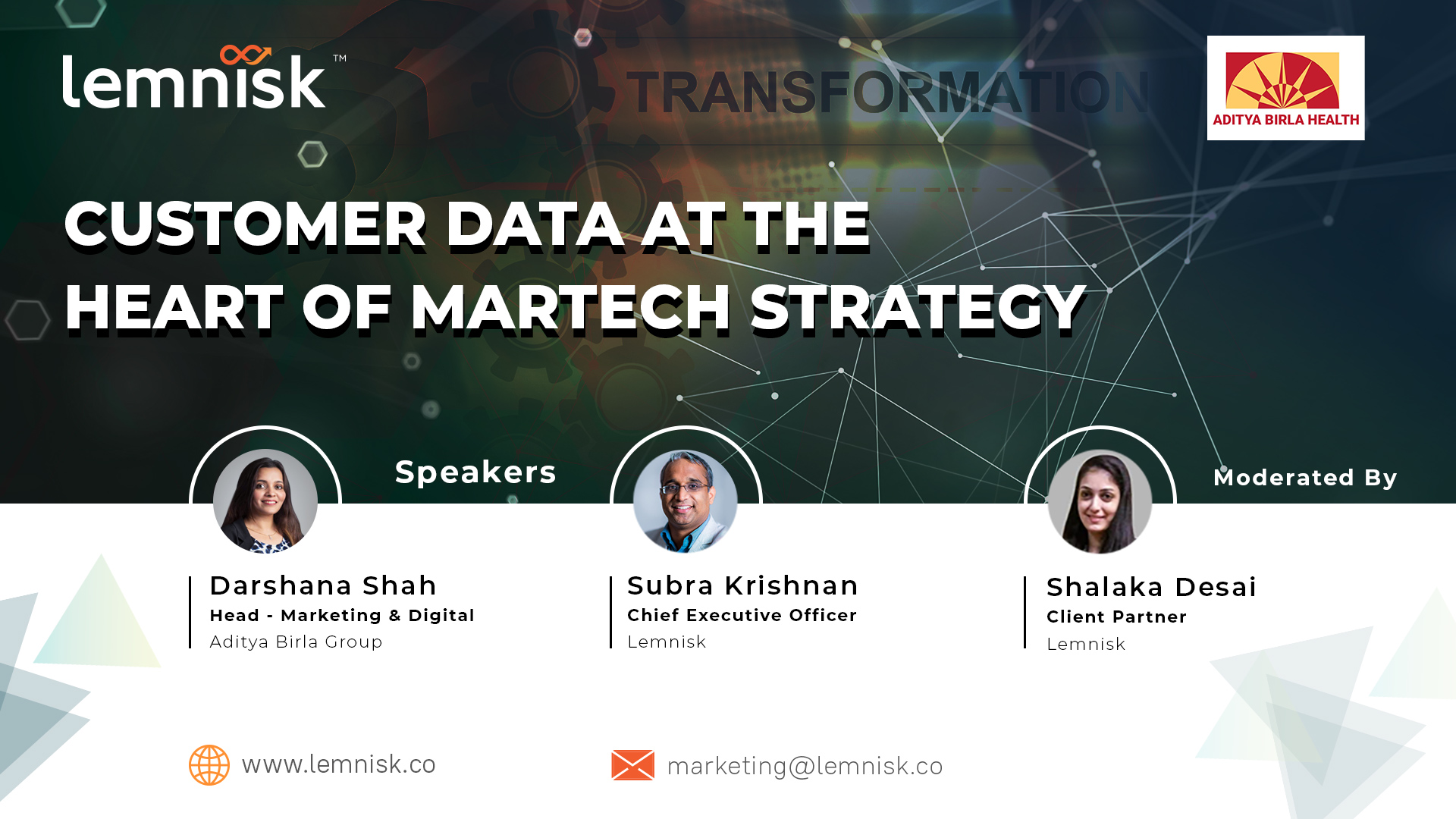 Darshana comes with over 2 decades of experience in marketing, brand management, innovation strategy, and so on. She has multi-faceted industry experience in retail, IT services, and insurance. She has worked with large organizations such as Future Group, Shoppers Stop, Reliance Retail, etc. Darshana has also been receiving consistent accolades and recently won the leader of the year award at Aditya Birla Health Insurance.
Here are some of the major takeaways from the discussion:
Customer Data at the Heart of Martech Strategy
From a digital marketing perspective, what are the similarities & differences between retail and insurance?
Retail marketing is here and now and is all about the consumer. It's also hyper-local. The consumer is living and breathing in your store. You are directly dealing with the consumer. It's all about consumption and abundance. You want them to keep coming to your store and keep buying products.
The health insurance industry is run by intermediaries. You are not reaching your end consumer directly. You have to reach them through your channel partners or your own propriety channels. To know about the end consumer, you need to drive it through your intermediate and you need to keep training them to deliver what proposition that they need to speak about to the consumer. Data is the power that drives the health insurance industry.
Insurance hasn't got a tangible product. It's an intangible benefit that you are buying for your future protection. You are constantly creating contextual events in retail.
The obsession about the customer is common in both retail and insurance
What is the foundational customer data strategy at ABHI?
"You can only engage with customers if you know them individually and understand their behavior."
Apart from knowing the basic demographic data of the customer, adding their medical history and insurance data has helped in enriching ABHI's understanding of them better. Once there is enough data to engage with the customer, ABHI's data strategy is layered around their health behavior. Data pertaining to physical, nutritional, mindfulness, and mental wellness are also captured. Through ABHI's partners, further behavioral data such as shopping, mobile, travel, etc were added to the customer database.
The idea is to understand the customer's mindset, behavior, and digital consumption. A Customer Data Platform's (CDP) single customer view helps marketers in devising the right triggers for customer engagement.
How is a CDP different from other martech tools? Why should there be a centralized system of intelligence for marketers?
Health Insurance is a yearly renewal product and marketers want to engage with the customer during this entire period. Therefore, terms such as Customer Experience and Customer Moment of Truth are very important. Marketers need to capture a customer's micro-moment to get them to stick to their brand. A CDP gives a consolidated view of the customer to the marketer. It helps in understanding the segments, micro-segments, and micro-moments of customers. Hence, marketers can personalize their offerings in real-time as per customer preferences.
How has the business strategy for ABHI changed during the pandemic?
The health insurance sector has now transformed from a push marketing category to a pull category. The pandemic has made consumers more aware of health insurance and its benefits. Instead of focusing on sales, ABHI's strategy is to focus on the consumer's health through various consumer-centric initiatives. This was done through celebrity partnership campaigns, health, and wellness training via Facebook, etc.
By Bijoy K.B | Marketing Manager at Lemnisk