The Coronavirus pandemic is continuing to wreak havoc in the world ever since it first appeared in China in December 2019. It has defied the expectations of industrialists and is causing a considerable decline in both big and small businesses. As there is no clear indication of when this juggernaut will end, it becomes necessary for companies to adapt to these difficult times in order to survive. The COVID lockdown period has drawn the attention of marketers towards investing in digital martech platforms such as a Customer Data Platform (CDP ) or a Data Management Platform (DMP), etc. 
Recently, we had an enlightening thought-leadership session with Prashant Agarwal, Head of Digital Marketing, AIA Group. Prashant's industry-agnostic career gives him multi-domain and inter-industry acumen. He's a marketer for businesses, an innovator at innovation labs, a connector at startup accelerators, brand builder, frequent international speaker, and regularly serves as a jury member for awards.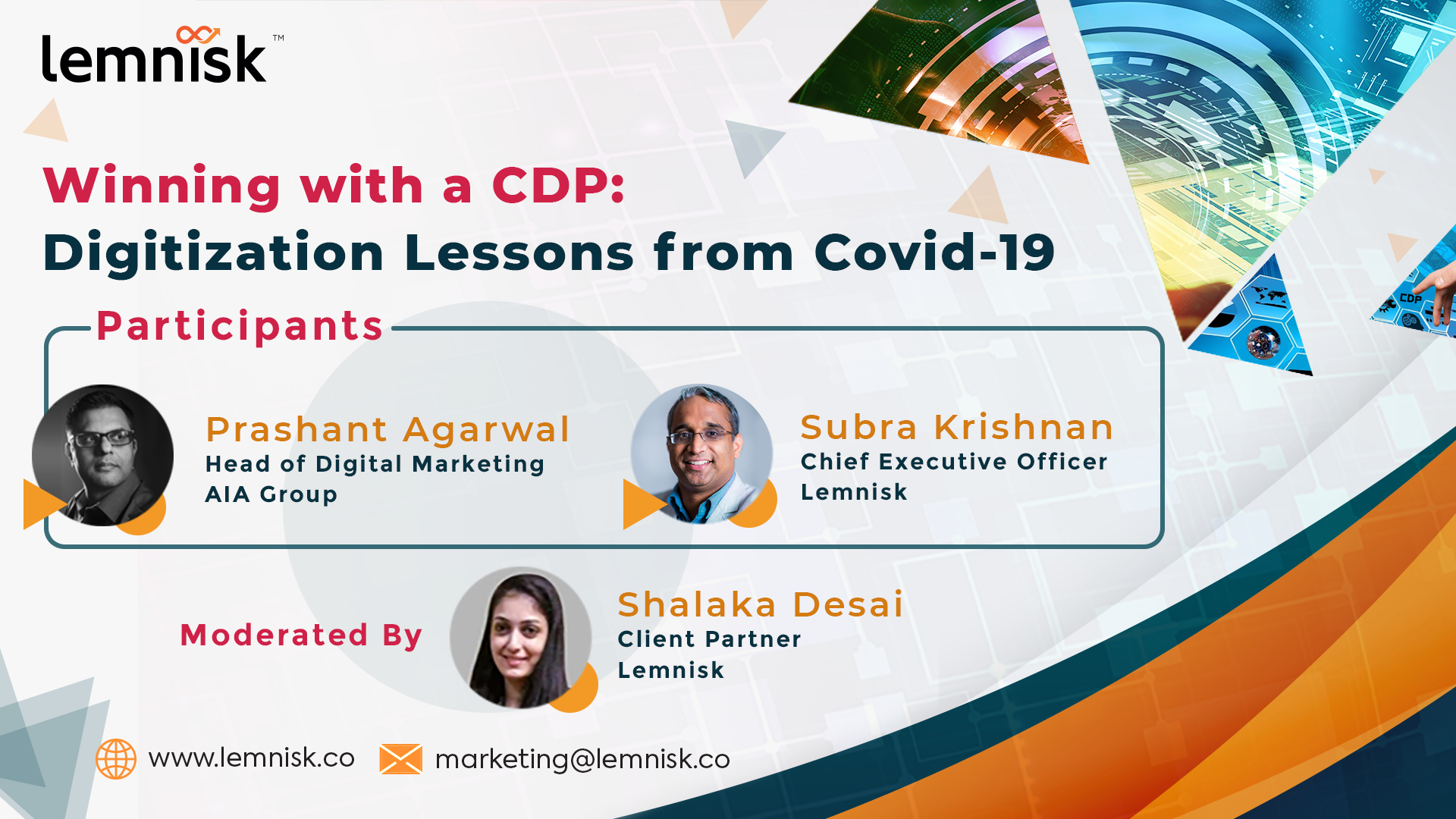 Here are some insightful excerpts from the discussion:
COVID-19 has transformed the way in which people perceive risk.  Earlier, not everyone was interested in purchasing insurance plans as they were never a top priority. With the onset of COVID, the mindset or mentality has changed completely. COVID has struck intense fear among the masses that they are ready to do purchase insurance policies for themselves and their families. 
The challenge in insurance now is to make human connections do the last mile fulfillment. Another challenge is that consumers are overwhelmed in their online world. The need is to use a non-stronghold of the insurance agent to establish a human-to-corporate connection. Hence, marketers must use an appropriate martech tool that can assist them in making these connections happen.
A typical insurance journey consists of the following stages: Learn->Buy->Service->Claim. Digital marketing will play a major role in all these stages. However, for the "Buy" stage, it will play a co-pilot role with the insurance agent. This can be in the form of assisted sales where an agent assists the customer online in making a purchase. Or it could be a case where an agent interacts online with a prospect for assessing his requirements.
Marketers essentially need to use the T.A.P.E Framework for targeting customers. Customers need to feel that they were "Targeted". Their reaction needs to be "Agile". The messaging has to be "Personalized". And it has to be "Engaging". The T.A.P.E method cannot be done without the use of customer data and applying it at scale. Many companies have huge amounts of data. But most of them do not have the ability to convert that data into an automated, on-scale, engagement system. This is where a martech platform such as a Customer Data Platform (CDP) comes in.
3 Tips for Insurance providers for tackling COVID-19:
 Invest in digital advertising

If you are a marketer, invest in marketing technology

A vertical-specific vendor will have a faster deployment time due to their alignment towards a particular industry.
Some of the common CDP use cases during COVID-19 have been around acquisition and up-sell/cross-sell. Examples of unorthodox use cases involve reducing NPAs in the banking industry and bridging the gap between online and offline channels. There will also be a likely rise in use cases that focus on the adoption of digital channels by consumers. 
One of the important aspects of systems like a CDP is that every user interaction or lack of an interaction enriches his/her data file. Every item gives a new data signal that chooses and helps marketers decide what actions need to be taken, when they need to take them, and how often they can be taken. 
Marketing will be an absolute twin of sales in the new normal, post-COVID. The world is heading from CRM-led marketing automation to CDP-led marketing automation. CDP vendors need to humanize their offerings and make them simple to understand for their clients. 
COVID-19 has made it very difficult for companies to sustain their business. To weather the crisis, they need to focus on establishing deep and lasting consumer relationships. The customers with whom a robust relationship is built will endure over a long period of time. Therefore, to make this happen, they need to re-structure their technology stacks and start investing in the right martech platforms.
By Bijoy K.B | Senior Associate Marketing at Lemnisk