The Middle East & Africa (MEA) region has seen a strong trend in data-driven marketing among marketers who are starting to understand and leverage the power of their customer data. As the world slowly heals from the scars of COVID-19, being data and digital savvy is no longer a trend but almost a survival mandate. Lemnisk hosted a Customer Data Platform (CDP) Virtual Summit for the MEA region in February 2021. The summit's aim was to make enterprise marketers understand how they could transform their business using customer data. This article focuses on the panel discussion that was held during the summit.
The panel members were Usama Zafar, Head of Digital & Direct Marketing, Abu Dhabi Islamic Bank, Mandeep Gulati, Director, Digital Products & Innovation, Al Rajhi Takaful, and Gaurav Chhaparwal, Founder and CEO, Datahash.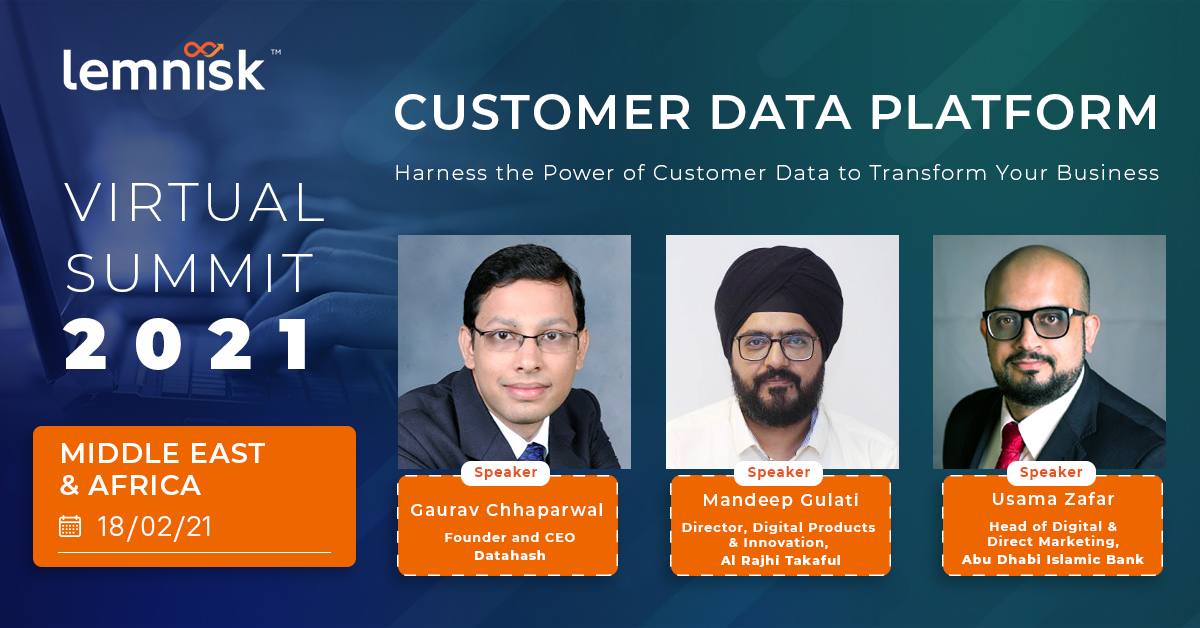 Here are the key insights from the interesting discussion:
The Rise of the Super Intelligent Marketer
What kind of insights do you try to extract and leverage from customer data and how do you use it to derive business outcomes?
Usama: It boils down to two things. One is "who" as in which sub-segment and micro-segment are we looking for. Marketing down to that segment of one customer at the right juncture is where most of our efforts are now focused on. The second thing is communicating the right content and developing that emotional connection with the customer.
Mandeep: Three or four years back what we were trying to do is that we were trying to create micro-segments by getting a lot of information from our campaigns. The data that we were collecting was pretty small. It was easy for us to analyze it with our naked eyes, put it on an excel sheet and see the results. We could identify the leakages and make things right. Today, there is so much data coming to us from various sources. It's impossible for us to say that we can get our insights from one data point. This is where we need to let technology such as AI handle it.
Gaurav: I agree with both Usama and Mandeep on the point that the insights have gone really micro and marketers have to truly understand them and make micro decisions. There is also a set of what I call macro decisions which have traditionally been the old school excel-based decisions in terms of which channel is doing well as compared to others, search versus display, etc. Both these types of decisions need to be taken by the winning combination of human and machine.
What's been your experience with machine learning and is it really the right time to consider it?
Usama: We've been using data modeling of some form in the bank since 2009. It worked more on rule-based engines and wasn't AI-driven. The usage of machine learning and AI depends on the complexity of the data and the multiple systems you're using and how real-time they are.
Mandeep: In my current portfolio, I'm betting a lot on machine learning because we are planning to now introduce telematics into the scheme of things. This means that we have to record the "driving data" of millions of customers and then price insurance for them. Something like this definitely cannot be done by an underwriter or a team of underwriters sitting somewhere in the office. This has to be brought into a machine-learning system so that we can analyze driver behavior, etc., and then price the insurance and risk accordingly.
What's your take on AI use cases such as product recommendations? How should one really look at AI especially for somebody who's at the start of digital transformation?
Gaurav: 9 years ago, recommendation engines were not available out of the box to an extent that they were not productized a lot. Hadoop and Mahout were just about becoming the buzzwords at that stage. What has happened over the last couple of years is a good portion of this intelligence is getting productized. There is certainly a lot of homegrown intelligence depending on what kind of use cases you have. At the same time, there is a lot that's available in products as well. So there is a very clear decision of build versus buy that one has to make with respect to AI.
If a company's digital maturity is at a relatively early stage, I would rather not suggest going into the most complex use cases of AI or machine learning. The key for relatively less mature organizations is not to get caught in the hype and focus on the basics but do them brilliantly well. As the organization matures, it can pick up more advanced use cases.
What's your one big bold prediction for the coming decade of how data-driven marketing is going to evolve?

Gaurav: In the next 10 years, data-driven marketing will change to insight-driven marketing. The privacy of customers will be intact but at the same time, marketers will be able to bring out the traits and understand the gist of the user. So rather than focusing on the individual, the focus will be on understanding the insights.
Usama: I think new marketing channels will get added. Outdoor has been quite a quagmire for us so far and I think with new tools that come in we'll see more and more measurement coming for outdoor media advertising. For the financial services market in the UAE, Saudi, and Egypt, we'll see marketing divisions become more of profit centers rather than cost centers. A lot of the future decisions will be taken by CMOs and there will be a certain amount of sensitization.
By Bijoy K.B | Marketing Manager at Lemnisk