The martech landscape is evolving year after year with more and more best-of-breed or point solution vendors coming into the fray with their unique marketing technology offerings. Marketers have a variety of tools to choose from that are specifically crafted to solve each and every business goal and objective A Customer Data Platform (CDP) is such a tool that can empower marketers to take control of their data, extract actionable insights from it, and used them to deliver personalized marketing campaigns/offers to their customers.
In February 2021, we hosted a Customer Data Platform Virtual Summit for the South East Asia region. The summit's aim was to make enterprise marketers understand how they could transform their business using customer data. During the summit, Michael Justin de Vera (Miko), Head of Digital Marketing, Philam Life, delivered an outstanding masterclass session on how marketers could drive data-driven marketing for their companies using a CDP.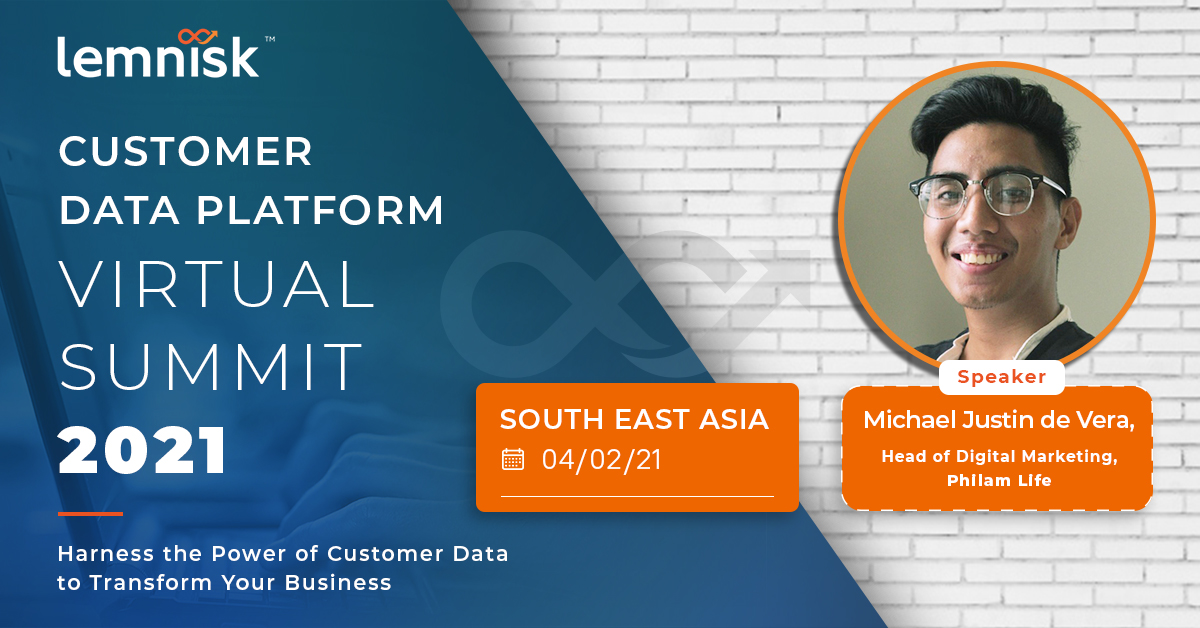 From previously managing digital accounts in MRM//McCann, Miko now leads AIA Philam Life's digital marketing team – tackling brand-building to performance marketing initiatives. He oversees the Philippines' premier insurance company's digital content, paid distribution, performance marketing measurement, and marketing technology. Truly, digital marketing is his passion because he also serves as a lecturer in the leading provider for digital training, Certified Digital Marketer.
Here are some of the important insights from the session:
Notes from the Martech Battlefield
The role of a digital marketer is multi-disciplined as well as cross-functional and cross-funnel.
A CDP serves like a human brain. There are two sides to it. On the left side is the customer data input which consists of first, second, & third-party data, online data, and offline data. The CDP ingests all this data and segments, profiles, and integrates it under each customer. The right side of the CDP is the output/activation where digital marketers can derive the most out of it.
CDPs such as Lemnisk have their own built-in marketing automation feature wherein they can create personalized marketing campaigns, enable marketers to add custom business rules and deliver the next best content/offer across select channels that are also integrated with it. The channel engagement data of customers can be fed back to the CDP and the data can be thus enriched further.
There are CDP providers who focus only on the data side which involves the collection and integration of data. They are called Data CDPs.  There are CDPs who focus on ingesting, profiling, and segmenting data. They are known as Analytics CDP. There are CDPs like Lemnisk who cater to the end-to-end process seen above. They input, ingest, profile, segment, and finally activate the data. Such CDPs are called Campaign CDPs. Companies need to decide which CDP could suit them better based on their existing martech stack and business goals.
The North Star metric is the starting point
Marketers need to take their North Star metric as the starting point and from there prioritize the CDP use cases. The OKR or Objectives and Key Results methodology will help them identify their company's vision, the end goals they need to achieve by the end of the quarter or year, what needs to be prioritized, etc. This method provides a starting point to identify a use case that will make an impact on the organization. Once the OKRs are finalized, marketers can pin down specific use cases across the top and bottom of the marketing funnel.
After finalizing the use cases, the next challenge for marketers is to understand where the data is located, what is it all about, how can it be maximized and democratized,  how can it empower data-driven marketing. Depending on an organization's maturity in data governance, a lot of factors can come into play. Some of the key questions to ask are as follows:
Where is the data located Is it readily available?

What are the minimum data fields needed?

What is the unique identifier across sources?

Is the CDP security and risk compliant?
Integrating a CDP goes beyond connecting various systems
There are 5 parts to a CDP implementation:
Transfer – What's the frequency of data transfer? How will it be transferred?

Activation – Is the API readily available? How soon can a company go live with it?

Enrichment – What additional data can complement what is already known?

Optimization –  How often and how soon will the changes get reflected?

Attribution – What's the success condition? Can success be identified in real-time?
Advocate the "Always in Beta" experiment mindset
Marketers need to always advocate that they are in a beta experiment mindset and are embracing a growth mindset for implementing a martech solution such as a CDP. The plan needn't be perfect and what's more important is that they keep optimizing and continuously improving it.
The Growth Hacking Process that marketers can adopt is as follows:
Analyze – Analyze and learn on metrics that matter

Ideas – Sustain a rich and steady pool of experiment ideas

Prioritize – Select ideas based on a framework (ICE, cost-benefit, action priority, etc.)

Test – Work towards testing more and in high tempo
Critical questions that marketers should ask:
What's the most pressing issue you need to address?

Is your use case maximizing the power of a CDP?

How does the CDP fit into the bigger martech picture?

What are the inherent risks and controls that you have in place?

What's the picture of success after your Proof-of-Concept (POC) with the CDP Vendor?
By Bijoy K.B | Marketing Manager at Lemnisk