We recently had an insightful discussion about building a foundational data strategy with Vadiraj Arlappanavar, Vice President of Product Management, Acko. At Acko, Vadi leads the central products and platform to provide a holistic and seamless experience to B2C and B2B customers in the company's different lines of business.
Vadi is an incredible product leader with a track record of over 2 decades of experience – both as an entrepreneur and as a business leader in roles spanning product creation, managing global businesses and teams, conceptualizing new initiatives, and the creation of innovative practices in the consumer internet and B2B space across InsurTech, FinTech, Retail, Travel, & Logistics.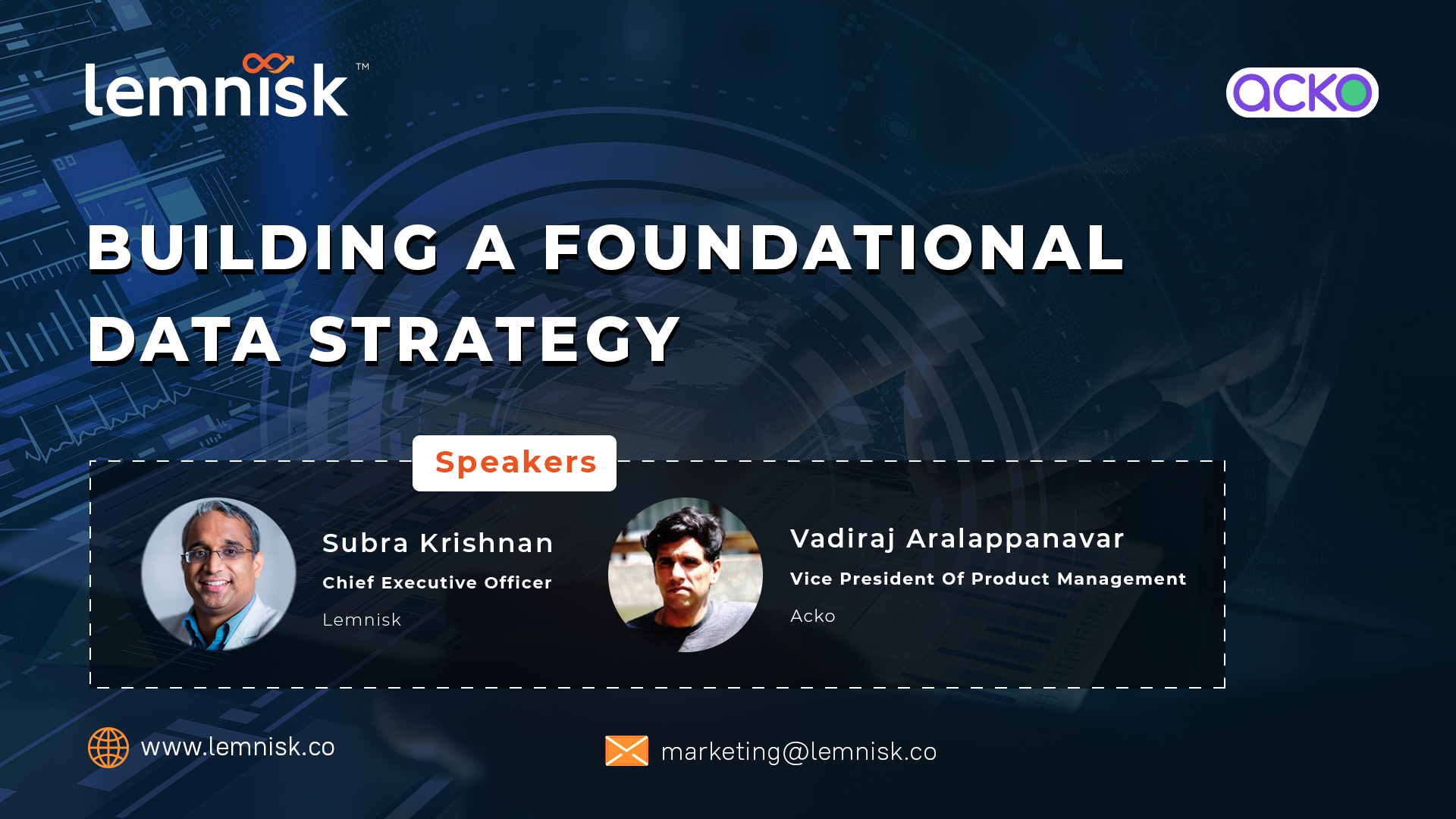 Prior to Acko, he led the product divisions at ONN Bikes and C&D labs. He was the co-founder and president at Veninore Technologies and the founder and CTO at Telibrahma Convergent Communications. Apart from this, he has held leadership roles in firms such as Qwikcilver Solutions, Xchanging, Mindtree, and Wipro. He also has been an advisor at 100watts.tech, SpringUp Capital, and the Founder Institute.
Vadi is passionate about startups. And he has been a part of product journeys from their nascent stages. He has created and managed Accelerators / Incubators and set up the entire ecosystem – Founders, Partners, Mentors.
The key takeaways from the discussion are as given below:
Building a Foundational Data Strategy
How has customer data evolved in the last decade?
The whole context of startups and how companies can disrupt using technology and data has tremendously changed. If you look at companies a decade back, customer growth was seen as a lever to grow especially for b2c and d2c businesses. Today, the intelligence that we have now can propel a lot of a company's strategies.
Data existed earlier but companies didn't know how to use it. It would have resided in siloed systems or some monolithic ERP systems. It was very difficult to understand what was happening in what context for a user. Data always existed in paper format and it may not have even been in digital. The channels from which the customer data was coming in did not exist.
In today's intelligent world, we as marketers know the customer contacts, the customer context of where and how he/she has come from, and how intelligence can be used to propel their strategies. We know how to acquire customers, how to engage and retain them, how to do some real-time activation, how to do the whole funnel tracking, and things like that.
What is the approach taken by Acko to build a foundational data strategy?
For D2C companies, it's very important that you need to understand your customers. What's your current state or the current health of customer behavior or how you are dealing with your customers in terms of acquisition – whether it is working or not.
After the acquisition, how are we doing on the conversions? How are you doing in the retention stage and how are you engaging them and what strategic levers do you have to perform those actions? So from that angle, I would say for any organization including Acko, it's a continuous exercise. For all the data that we have, we need to check if it is structured. Whether it is lying in siloed systems or not. What instrumentation do we have? Are they connected with each other?
There are various ways by which companies can evolve. They can start with a mobile-first approach and have a mobile app but then they can go to the web or it can be the other way round. There may be different events coming from different channels. At Acko, we took an approach of how we are seeing customer touchpoints and their interactions and breaking them down into events and where they are stored.
When you are a series A company, you may have a smaller set of technical assistance and capabilities that are there within the system which will be a mix of internal and external systems. But as the company grows, that whole system starts becoming very complex. You may be using one tool for marketing campaigns, another tool for storing customer data, and another for lead attribution. You have to check if these tools and systems are capable of integrating with each other and whether they are able to talk to each other. That's a very important thing.
You'll then start realizing that there are so many systems. Firstly, they might either be integrated and talking but are not talking intelligently. Secondly, they might be talking in the same language. Lastly, there might be a central system to propel that intelligence to do that.
For example, one system may be able to know that customers dropped off from the funnel from one channel. But another system may be working on a different use case and may not even be knowing that the customer has dropped off from that funnel. Therefore, we need to make them talk intelligently. How can you provide that decision-making framework to do what you want and then act and make those decisions happen?
What have been your learnings with a Customer Data Platform?
Companies in the insurance space have so much data. But I think they are not making use of that data effectively. When you start looking at the customer data and numbers and then you kind of start seeing the customer funnel.
If there is a ten percent drop-off, how can one control it? The ten percent drop-off is an opportunity of how you want to bring that efficiency to the company. As a company, these are potential things that you would want to contain. It will then be a question of how our own technology teams can build all these things. This is when the question of buy vs build start happening.
What a growing company in the consumer internet space requires is time and faster go-to-market. You don't have to reinvent technology for the technology's sake but instead, spend that time bringing the technology and leveraging all of its possibilities. It's a better use of everyone's time and effort.
If you take the approach of using a CDP, you can lean on what the best things are which have already happened, and then you can concentrate on the best use cases that you may want to crack.
What are some of your interesting marketing use case innovations with a CDP?
When we look at use cases, we kind of bucketize them starting from awareness acquisition, real-time activation conversions, and then retention. In insurance, it is all about renewables. They happen once a year. So how innovatively you can do that, give the right touchpoints when you communicate, in what channels you communicate. All these factors become very important in terms of whatever opportunity you have depending on the context of your domain.
1. You may be acquiring a customer when he has come back with an interest and he's trying to buy new car insurance. He still has 10 days more for renewal and he's just trying to check and see and then suddenly drops off the funnel. This is where a CDP can play a pivot role. A CDP provides that intelligence about where exactly a person has dropped off from the funnel and what has been his events. A growth product manager can act on this insight and tailor personalized communication to this person.
2. A customer might be targeted on a particular channel such as SMS. But she might have already opted in for WhatsApp. So why not focus our efforts on targeting her on this channel? Suppose the customer has come to a stage where she has seen the insurance quote but has not done the payment. Then you would want to give her that so that she doesn't need to go through the whole journey. You can give a link directly where the customer can straight away go and do the payment. That's like saving time for the customer.
3. Consider a customer who has taken an auto insurance plan. We have the cohort and the segment of that user. We can then offer a custom health plan that will definitely appeal to the user. These are all possibilities in the realm of innovations that we can provide. Sending them nudges about new things being better and saying that you are the right customer for us and Acko is the right thing for us. All this is very much possible when you have that whole data fabric or data pipeline or the other nervous system for the tech instrumentation that we have. On top of it, you have a control layer of intelligence to propel that by sending the right message at the right time in the right context and then on the right channel.
Have the rules changed for digital insurance companies after the pandemic?
The pandemic has affected companies in different ways and manners depending on the use case and the segment. From Acko's standpoint, we were heavily into auto insurance for the first few months. We saw that people were not moving at all. There was some dip in the beginning. But last year, we have seen that there has been tremendous growth in auto in general. People have come out of their shelves and they don't want to take a mass transit approach. Even if it's a small car, they are willing to purchase it.
In the past 12 months, we have seen a huge uptake in the insurance and internet partnership world. The health insurance sector is becoming more and more important as well. We are keeping our fingers crossed and are quite excited to see how our health retail product moves and grows from where we are right now.
By Bijoy K.B | Senior Marketing Manager at Lemnisk