Direct-to-Consumer or D2C is a marketing strategy that companies adopt to market directly to the consumer. There are no middle-men or intermediaries involved and the company has complete control over how they want to market their products and services.
D2C is quite different from B2C (Business-to-Consumer).  In B2C, a company approaches an intermediary such as a retailer to do the marketing for them. The advantage in B2C is the intermediary company takes the headache of marketing a company's product(s). They are seasoned players who know exactly how branding and marketing need to be done. In D2C, the challenge for companies is to emulate or surpass the kind of brand or customer experience an intermediary provides to a consumer. In this digital age, it's far more difficult as the consumers are expecting enriching digital experiences.
We recently had a fascinating discussion regarding D2C customer experience with startup leader, Chaitanya Ramalingegowda, Co-Founder, Wakefit.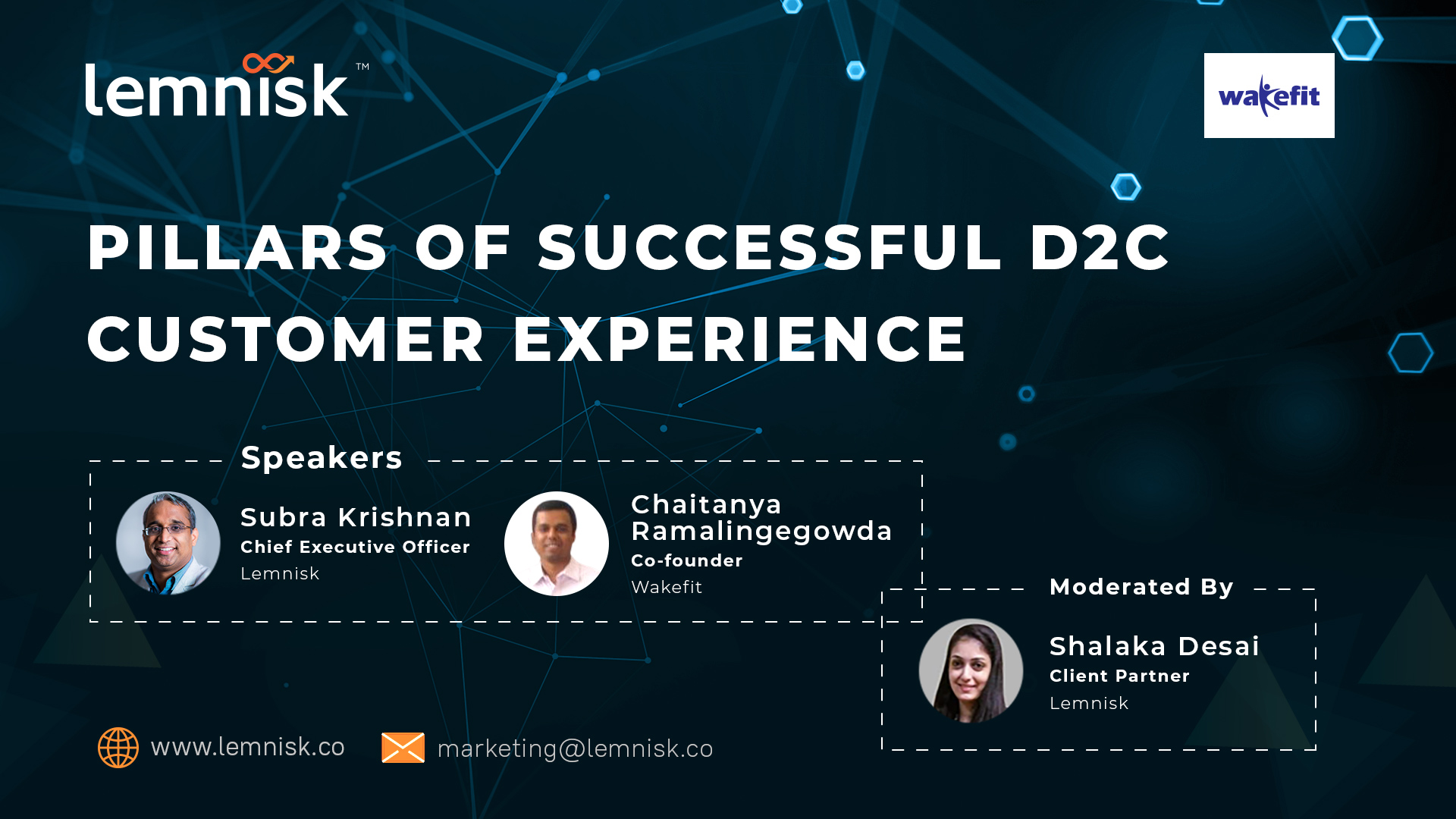 Chaitanya has over 17 years of experience in entrepreneurship, management consulting, and marketing. His previous engagements were in India, North America, and Europe with fortune 500 clients across various industries. Currently, he has invested in advertising startups for their growth and funding strategies.
In this discussion with Subra Krishnan, CEO, Lemnisk, Chaitanya explains the various pillars of successful D2C customer experience. Let's take look at some of the important excerpts from the discussion:
Pillars of Successful D2C Customer Experience
What are the D2C Customer Experience pillars that Wakefit focuses on?
"Customer experience is always at the heart of every juncture or decision that we make."
Wakefit focuses on three main D2C CX pillars:
Get the product right at the right cost point and value proposition

Create simple and transparent Terms & Conditions and Policies

Create a Customer Experience team that always delights the customer
All D2C customer experience pillars must be built on a foundation of authenticity. Without authenticity, they are meaningless.
Is there a long-term channel strategy for Wakefit with regard to D2C?
A multi-channel long-term strategy is less risky than depending on a single channel or marketplace. 
Over 70% of Wakefit's annualized revenue comes from the company's website. And the remaining 30% accounts for the rest of the marketplaces put together.
"Whether it is on distribution or marketing, we've always focused on de-risking ourselves. We can never be dependent on one marketplace or channel. Marketing isn't constrained to setting up great campaigns but it is day-to-day activities such as word of mouth, customer advocacy, customer stories and testimonials, organic SEO, etc. that we do very religiously without failing."
What are the recommendations for startups with respect to customer data strategy?
Startups should use customer data only for delivering value to the customer. They should not fall into the revenue trap offered by marketplaces and not get customer data. 
Depending on marketplaces in the long-term robs companies off owning customer relationships. It's always better to use a marketplace as a listing platform and not use their auxiliary services. The startup company's website should be the primary channel where they can completely own customer relationships.
"Customer data is generated from both our website and marketplaces. Once we get the data, we make sure that we do not spam or sell our customer data to anyone. We only do things that the customer has given us permission to do."
Are there any new CX lessons learned during the pandemic?
The customer should always be at the heart of every decision that a startup firm makes. It's their onus to be in constant touch with customers and look for ways to improve their experience. 
By Bijoy K.B | Senior Associate Marketing at Lemnisk