We at Lemnisk, hosted a Customer Data Platform (CDP) In-Person Summit for the India region on June 8th, 2023 at Hotel ITC Grand Central, Mumbai. The CDP Summit's aim was to make enterprise marketers understand how they could supercharge their marketing ROI using CDP-led hyper-personalization. This article focuses on the first-panel discussion of the summit titled: "Crafting Your Customer Data for Effective Marketing Outcomes".
The panelist details are as follows:
Sandeep Gambhir, Head – Marketing & Digital, ICICI Home Finance

Vivek Gupta, Executive Vice President, Bajaj Allianz Life
Moderator: Ashirvad Patnaik, BFSI Vertical Solutions Lead, Data & Analytics, Tech Mahindra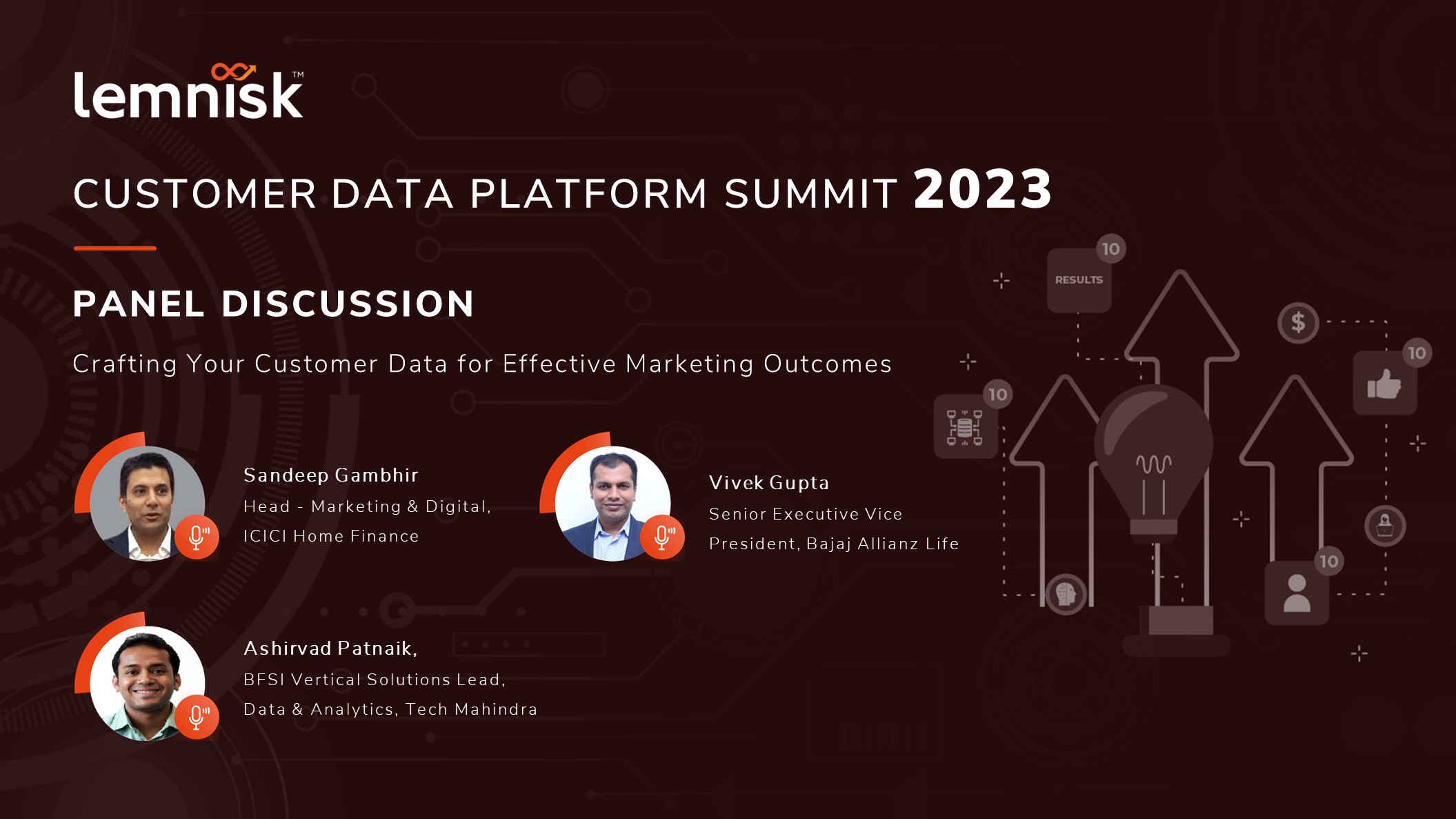 Here are some of the key insights from the discussion:
Crafting Your Customer Data for Effective Marketing Outcomes
1. Why is there so much focus on customer data?
Vivek:
In the previous fireside chat with Subhasis, he mentioned how paranoid customers get regarding exposing their data to brands. However, I would like to point out that customer data can actually be used to help the customer along with the organization. How that helps is that you can deliver personalization and you can be contextual. A few years back, we used to get a similar digital communication from a company, with just the difference being in the name, nothing much more than that.
Today, it's very contextual. It is extremely important both for the organization as well as the consumer because things have changed. People don't look at life insurance as a separate category anymore. They compare it with other products that they purchase.
In the first fireside chat with Abhishek Biswal, I could resonate a lot with what he was saying. Airtel has an ARPU of 2400 per year. We have an ARPU of around 1 lakh per year. The problems are very different but the solution is the same – having the customer data. That was the point.
Sandeep:
We say that if you are not data-centric, you cannot be customer-centric. It's as simple as that. Because data is what is going to lead you to deliver customer-centricity and customer experiences.
We had a customer who gave us very bad NPS. I looked at the trail of that customer, his experience was fine. The TAT was good. We met that customer and very interestingly, he said that he took an option to speak to our call center in Hindi. And because he took that option, we delivered all the other documents to him in Hindi. Now, he took that option to speak to our call center in Hindi because he felt that the call center was not up to the mark to respond to him in English. Whereas, he cannot actually read much of Hindi. It takes him a lot of time to read Hindi.
He chose that option and we carried forward that option across our customer experiences. He obviously didn't understand a word of it. He said that he wanted that in English. Now, how do you account for that bad experience? That's where the NPS dropped. How do you account for this kind of data to be taken as input? That was a convenience factor. But not really a first choice that the customer would pick and then relay back across your touchpoints to the customer.
That's how important data is and you understand that we need to keep mining the data and keep collecting it for us to be relevant in order to deliver ideal customer experiences.
2. How have you seen marketing strategies change over time in your experience? What do you think the way forward ideally would be?
Sandeep:
When I was in life insurance, I used to handle the online business. A lot of customers requested us to send everything over email. Now things are changing. Instead of email, customers are asking us to interact with them on WhatsApp.
This is a big shift that the customer is making. And we are talking to them in various languages, etc. That becomes very important to pick that up from a marketing delivery perspective. You have to be relevant in that particular language to the customer.
Earlier, we used to have a lot of eligibility checks available on our website. We are now moving that to WhatsApp. So today, if you are my customer, whether you are an FD customer, you can renew your FD without going to my website in three steps on WhatsApp. The website is out of the picture here. And the same thing is happening with eligibility checks or as we call it in the industry, spot sanctions.
People don't want to visit websites. They want to have experiences on the platforms they are comfortable with. They don't want to visit websites any more. A lot of this is moving to the platforms where customers feel that it is convenient for them. So that's how it is.
Vivek:
I think one important thread that Sandeep mentioned here was about the customer wanting to interact the way he/she wants. If you go back a few years, there was only one singular way the organization used to interact. Today, the new ways of interaction include digital, vernacular, and voice.
One more factor that is changing is everyone is short of time. They want summarization. For example, when you buy a life insurance policy, you get something called a benefit illustration. It's a three or four-page document. It's difficult for me to understand sometimes after having spent 19 years in this industry. People can't read that. So you require summarization. Everyone is short of time. Hence, all these things are leading to a lot of changes.
3. You pointed out the difference between traditional and modern methods of marketing. Do you also perceive that there has been a change in the costs associated with it?
Vivek:
Yes, completely. There is a lot of change in cost. But we are in a sector where we are not bound by cost so tightly like a telecom company such as Airtel.
The average revenue generated per consumer in life insurance is around a lakh. That's not exactly my revenue, because that goes into the investment for the consumer. So I really don't mind spending a little bit of money on digital. What I do mind is having a regular interaction with the customer.
Because I may be interacting with a life insurance company only once a year, and that too just to pay the premium. So costs are there but they can be managed. However, what is important is how I reach out to these customers and may be spending a little lower per-user cost on marketing efforts like CDP.
Sandeep:
I would for now keep the cost aside and focus again on customer experience. Because for us that definitely comes later. It's a complicated journey among all other products. The insurance claim is a huge amount that is being given out. And that gets paid out over multiple interactions. So everything here plays out from a customer experience point of view rather than the cost angle.
4. Are Machine Learning and Artificial Intelligence truly a blessing or is there a curse aspect related as far as customer data is concerned?
Sandeep:
AI is still evolving. We are all excited. We are exploring various ways because we see the benefits that ML & AI can bring across the value chain, right from your front line to your customers. So there's a huge opportunity out there. But yes, there is a word of caution everywhere, which we want to observe, but undoubtedly, this opportunity cannot be missed.
Vivek:
I completely agree with what Sandeep is saying. It's an opportunity. Any technology such as a mobile phone is either deemed a curse or a blessing. Similarly, AI & ML are definitely a blessing. I was one of the first people in the industry who created an AI app for customer service. That was around 6-7 years ago when AI was just getting started. At that moment, we were also contemplating whether we should use it or not. And I can say from my experience of creating the app, if you can control it, it can actually be very conversational for the customer.
Just imagine, would any of us like to converse with a bot? No, if we know that the person on the other side is a bot, we will not be intending to do that. If we see the usage of IVRS to a typical IVR, people tend to move to an agent online because they feel that their query will not be understood by the bot.
AI & ML actually help in having a conversation about today. We have created technologies and actually we are working on three, four different projects where even a voice call is very conversational with the customer. So AI-ML is actually beneficial. I would urge everyone to actually explore it, if not use it.
5. What are the constraints or challenges involved in harnessing customer data?
Sandeep:
I won't call them constraints but this is more from a privacy, infosec point of view. You need to build guardrails so that the usage of data is as per the consent that you have received from the customer. To comply with InfoSec, etc. it takes time. Hence your go life cycles, your production cycles may become longer. But those are important steps. Those are some things which you cannot miss out on. Your cycles are longer because you have infosec and privacy-related things that you need to comply with, which includes customer consent.
The other part is we are in the mortgage industry and we collect a lot of data. Some of this information is in a form of personal discussion with the customer, which gets noted in a Word file, etc. You practically take the whole history of the customer.
Another thing I want to mention is the speed at which you go back to cross-sell the customer. Five years back when I joined Home Finance, the L2D cycle or the login to disbursement cycle, would be 40 days long. This meant that competition had a good window because you know that there is a request for a home loan that has gone from the customer's side and then you can cross-sell. This L2D cycle which lasted about 40 days gave us an opportunity. Now that same L2D cycle has got crunched to 10 days. That means your speed to go back to the customer has to be much faster for you to be able to make sense of that opportunity.
So how fast can you go back, since that data is available. How fast can you make use of that data to be able to make that pitch to the customer is again equally critical and that's where a CDP comes in from a role point.
Vivek:
And the other factor which I would like to mention is about capturing and enriching the data. We faced this problem. We captured a lot of data during interactions. And when customers buy multiple policies, how do you have a system where all the data is put in a single place?
That is very important. 19 years ago, I joined Life Insurance. My first project was in terms of identifying unique customers. And believe me, it's been 19 years now, and the biggest problem we face is identifying unique customers. How is that there? The reason is that data may not be structured. Even if structured, it is having organization silos and system silos. How to bring it together? How to have a way where all the data can talk to each other?
This is one of the challenges or constraints where you need to figure out how to make the systems talk to each other, and especially when the enrichment part also comes into play.
6. We have these niche and OEM providers who are providing solutions like a CDP or a CRM. In your overall organizational ecosystem, where do these players fit in? What's the plan for them for the forthcoming year? How are they integrated into your network right now?
Vivek:
With regards to CDP, we have been working with Lemnisk for the last two years. We started with a pilot and now it's completely integrated. With tools like CDP and other online tools last year, we could enable a business of around 80 crores for our sales team. Now that's a pretty high business because it's not just online. So what we do with the CDP or similar technologies is we club it with the offline mode.
And with the connection of both online and offline modes, sales teams can reach out to the customers more contextually. Earlier it used to be like carpet bombing. You just give the lead, do some analytics at the backend, give the leads to the sales team, and then they reach out to the customer. That was not the best way to reach out.
Today, with the same amount, or even less number of people with higher productivity, the CDP helps in connecting the customer. That's how we have been able to reach in the industry.
Sandeep:
Today, I'm in the mortgage industry, but my association with Subra and team dates back more than 10 years. It was called Vizury at that point in time. And we did some great stuff when it came to personalization.
And today, in mortgage, demand and fulfillment are pretty well-known. This time we had experimented on CDP with respect to collections. Because money gets loaned, it has to come back to us. That's where we have used CDP to go back to our customers in a very personalized way so that they connect with their cycles.
7. Any specific best frameworks that help in achieving this overarching goal of effective marketing outcomes?
Vivek:
In our experience, there are two very important points which are there. One is mapping the customer journey or your campaign journey. It's very important. There was this discussion about multiple communications going to the customer for different different use cases. How can you have a complete customer journey mapped so that you can avoid such issues.
The second point is how do you connect data together which I spoke about earlier. These are the two important steps before you start on the CDP journey. Otherwise, your journey will be elongated. You may feel that the cost for a CDP is very high and the outcomes will be very substandard in that case. We could do very high premium enablement through this over the last few years because we first tackled these cases and then we went ahead with them. So that's some of the learning.
Sandeep:
No best practices for us. Just follow first principles when it comes to using a CDP. Because these best practices keep changing and the context of the customer keeps changing. Don't get fixated with any thoughts. Keep yourself agile and flexible. So, no best practices, but follow first principles.
By Bijoy K.B | Associate Director – Marketing at Lemnisk