What is growth marketing? How is it different from digital marketing? These are some of the questions that enterprise marketers have in their minds today.  As growth marketing is relatively a new term, it made sense for us to explore this concept with industry veterans.
Recently, we had an insightful masterclass session with Damandeep Singh Soni, Vice President Growth at boAt. Daman is a firebrand digital marketer who has spent the last decade in growth marketing leadership roles at companies such as MobiKwik, Wecash, Milkbasket, etc. He has also had his own ventures such as Planet Gogo and PerceptKnorigin. Daman is quite well-known for his website damansoni.com where he often pens well-researched articles on various topics related to growth and marketing.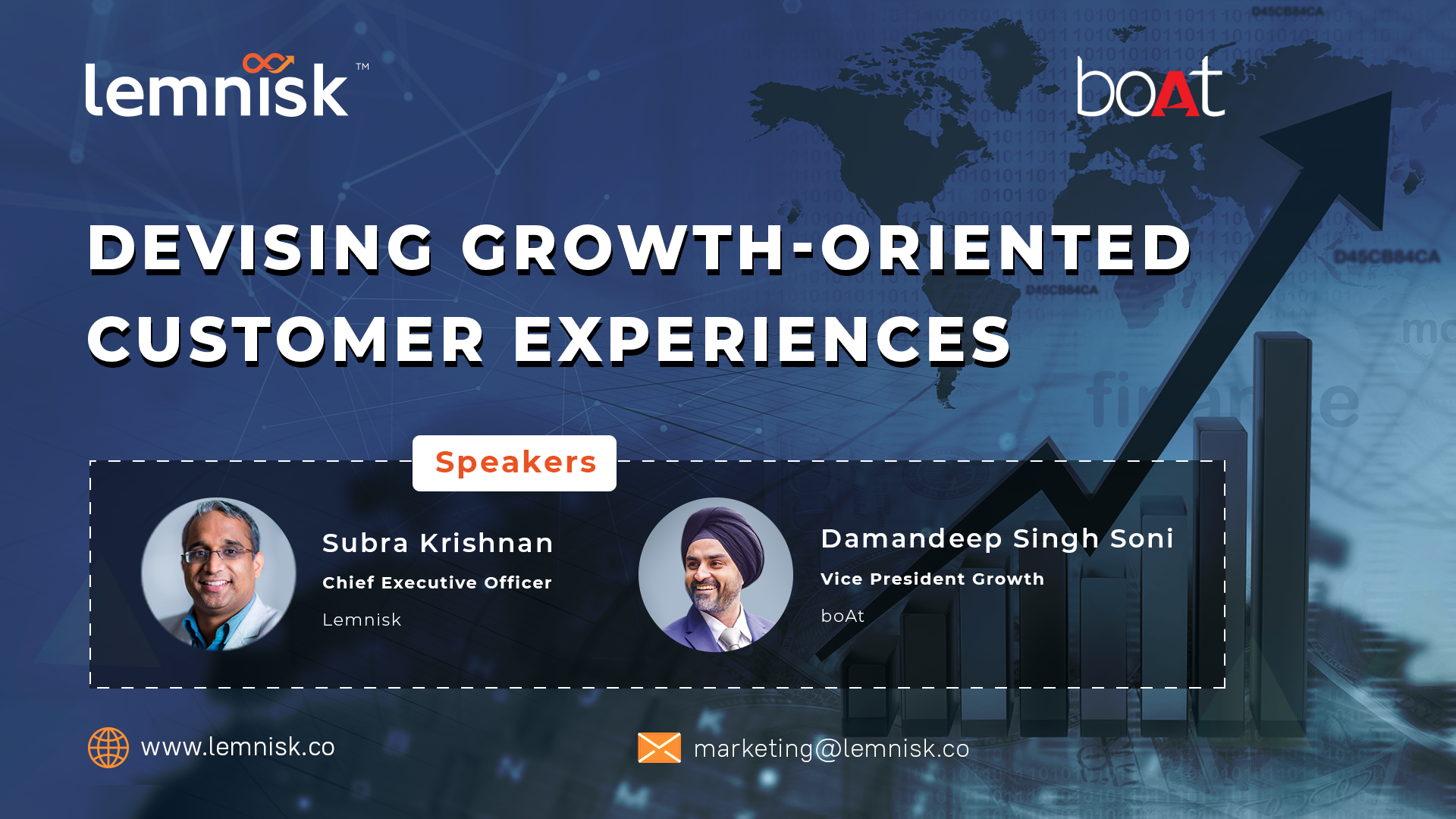 In this session with Subra Krishnan, CEO, Lemnisk, Daman gives insights on how marketers can devise growth-oriented customer experiences for their enterprises. 
Here are some important excerpts from the discussion:
Devising Growth-Oriented Customer Experiences
What does growth marketing really mean for marketers?
A marketer's job is to focus on the top of the marketing funnel – user acquisition and activation. A growth marketer's job is to focus on the entire marketing funnel. Marketing is a function of growth.
Growth marketing has four pillars:
Organic Growth – SEO, ASO, etc.

Paid Growth – user acquisition, TVC, ATL, BTL, etc.

Product Growth – is about building growth loops within a product. This means that if a user likes a brand's product and gets converted into a customer, he/she can bring 10 more users.

Partnerships – how can 2 different organizations leverage each other's user base either via cross-selling or by delivering value to the user. 
Do the growth pillars tie into a company's north star metrics?
A north star metric is a value that is delivered to users and is never about the revenue. How can a marketer define that metric that encapsulates the entire organization? Once that is defined, it can be broken down into smaller KPIs and it starts becoming very meaningful for everyone in the organization. Every employee then becomes a growth marketer. At different stages of implementing a growth strategy, the growth tactics are going to be different.
At Milkbasket, I envisioned our north star metric as number of items delivered to the user on time. This metric encapsulated number of orders, size of the basket, and operations so that the order is delivered on time.
What's the recommended approach for marketers who are setting up a CX ecosystem to drive growth?
The one thing that binds the entire marketing stack is data. There are a few parameters to look at when it comes to a martech stack:
What do you want to measure?

Why do you want to measure?

What's the tech that you would be using to measure?
An ideal scenario for marketers would be to have a central data repository to plug & play martech solutions as required. 
What piqued your interest in CDPs?
A CDP can easily marry first, second, and third-party data. The more a CDP integrates with multiple systems, the easier it becomes for marketers to manage customer data. For a CDP to be successful, third-party data needs to be used more efficiently.
What are the learnings for growth marketers from COVID-19?
Companies that had invested in martech stacks did really well during COVID-19. Companies that didn't have martech stacks, started learning more about them. Due to some channels being shut, a company's top management team has become open to new channels. 

Growth marketers have started investing more in content marketing in a meaningful way.

There's a huge shift in the way management is thinking about how marketing needs to be done. It's not always a money-first approach. 
My marker to figure out why you want to automate marketing is to look at the following questions:




Do you need to approach the tech team to implement something as simple as a landing page or a button?

Does your marketing team need to approach your data team to get data?

If the answers to both questions are yes, then your marketing team is struggling right now in terms of the martech stack. Marketers should ideally be able to visualize data, click on it, and execute campaigns using channels or personalize the whole experience. 
By Bijoy K.B | Marketing Manager at Lemnisk