In the transportation industry, airlines has always been one of the fastest-growing sectors. In 2019, as per a report by Statistica, the airline sector carried more than 4.5 billion passengers. The expected global revenue for this sector by 2025, according to Market Watch, is touted to be a staggering US $685 billion.
This is the age of personalization where consumers need brands to address their needs on an individual basis. To tackle this challenge, airline marketers need to closely study consumer behavior and expectations. Analyzing consumer data can provide rich insights that marketers can leverage to orchestrate personalized marketing to their customers and prospects. But data analysis is no easy feat as airline consumer data is spread across various silos and sources. This is where airline marketers can make use of a Customer Data Platform (CDP).
A CDP can help marketers aggregate and unify consumer data from disparate data sources in a centralized location. The unified data helps in building a single user view for each individual airline consumer that gives valuable insights about their online behavior, travel history, preferred marketing channels, etc. Based on these insights, airline marketers can tailor personalized campaigns on the preferred channels and devices of users in real-time.
Here are 6 CDP use cases that airline marketers can implement for their respective companies:
6 CDP Use Cases for Airlines
1. Real-Time Price Alerts
A user is booking air tickets between San Diego & Seattle but later drops off the site. When a price drop occurs on the route, the user can be intimated via a browser push notification. Here, the user's activity on the website is recorded in the CDP in real-time. The airline marketer can use the product intent to target the user with a personalized message on his/her preferred channel.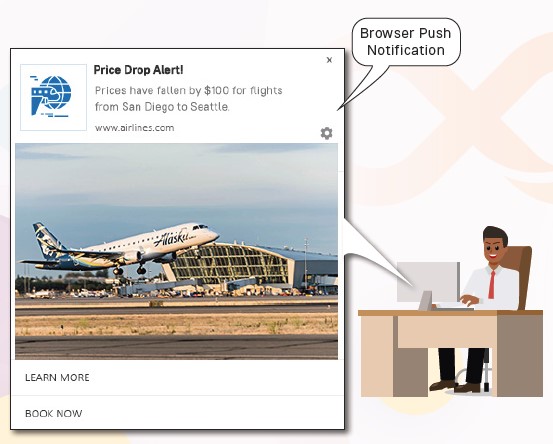 2. Up-Sell/Cross-Sell 
A customer is booking air tickets for a family of 6. At the checkout page, he is targeted with an extra baggage offer via an onsite notification. A CDP's single customer view enables airline marketers to orchestrate contextually-relevant offers to customers at the right time and on the right channel.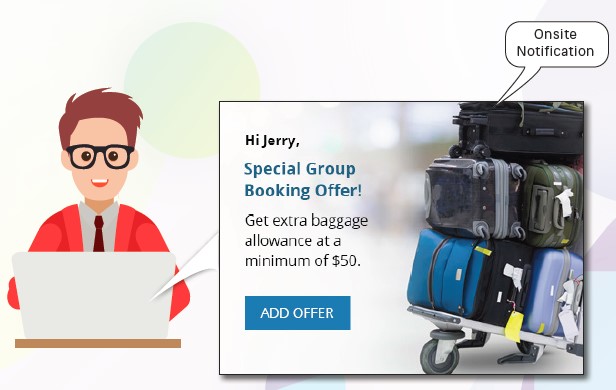 3. Loyalty Programs   
Customers can be provided with reminders related to the offers that can be availed using their frequent flyer reward points. They can be notified about the expiration of the points or any additional offers that they can avail of as a privileged customer. Loyalty programs are an additional source of increasing revenue for any airline company. Using a CDP, marketers can easily segment customers who have subscribed to their loyalty programs and target them with 1:1 personalized offers.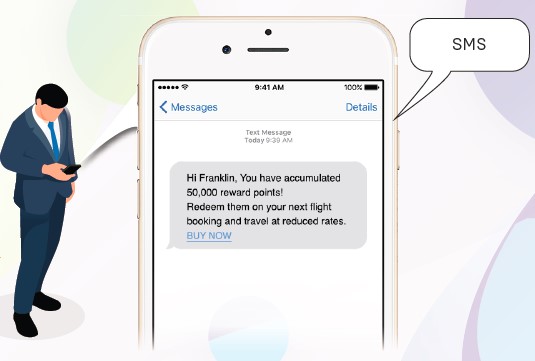 4. Seat Selection and Web Check-in  
Customers can be sent personalized messages via email and SMS to select their flight seats and also opt for the web check-in facility. Here, the CDP makes it easy for airline marketers to identify which customers haven't selected their seats and opted for web check-in. Attractive offers can then be tailored to these customers right before their journey, thereby increasing the airline company's revenue.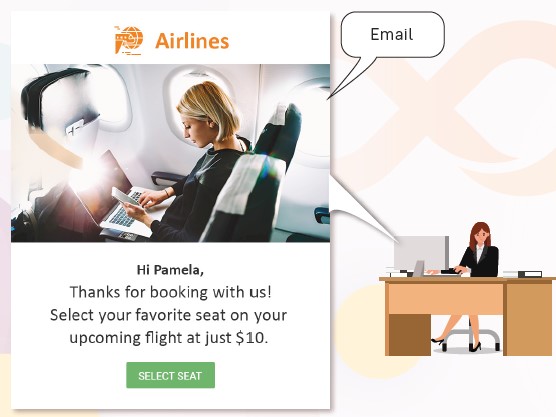 5. Hotel Booking Offers 
Encourage customers to book their hotel rooms from the airline's website by sending them personalized offers via an onsite notification or an email or a browser push notification. A sizeable chunk of airline passengers travel to a particular destination for attending meetings, events, or for holiday purposes. A CDP can be used to target these passengers with hyper-personalized hotel offers on their preferred marketing channels.
6. Festival Offers  
Based on the past booking history of the customer, personalized messages via a browser push notification or an email can be sent to book flights during a particular festival season. Airline marketers can view a customer's past purchase history through the CDP and use the insight to craft personalized offers.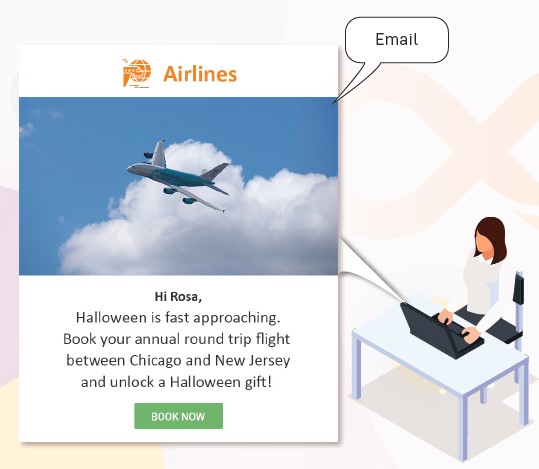 Get access to 14 more CDP use cases for the airline industry by downloading the following e-book:
By Bijoy K.B | Senior Associate Marketing at Lemnisk