The Customer Data Platform or CDP industry has come a long way since David Raab coined or formulated the term 'CDP' back in 2013. Although the growth of this industry hit a roadblock last year due to the COVID-19 pandemic, it was able to bounce back quickly as companies aggressively pivoted towards digital. This year, in 2021, the industry is expected to soon cross the 1.5 billion dollar mark!
The CDP Institute (founded by Raab) published its State of the CDP industry report last month. Here are the key highlights that marketers can look forward to in 2021 for the CDP industry.
The Customer Data Platform Industry in 2021
The CDP industry revenue was estimated to have increased to $1.6 billion this year from $1.3 billion last year.
The first half of 2021 has seen impressive growth for most CDP vendors. Vendors across the globe received funding of $550 million and added 1200 employees. As per the institute, this was the highest in-period funding ever recorded.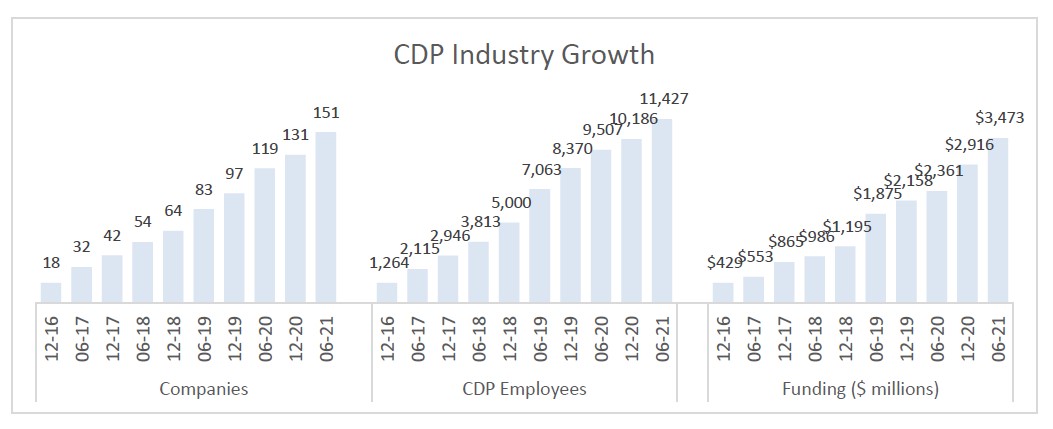 Source: CDP Institute
Strong growth was displayed by CDP vendors in the APAC region. Their market share grew to 17% from 13% in the past year. The US-based CDP vendors are larger and better funded than vendors from other regions. They accounted for 45% of companies, 58% of employees, and 64% of funding. However, their market share was found to be slowly diminishing due to the growth in APAC.
Source: CDP Institute
There were companies that acquired CDP vendors during this period. Most of them were customer engagement software vendors who wanted a CDP to unify their siloed data of multi-channel suites. There were 7 CDP acquisitions and 1 merger. No acquisitions were done by CDP vendors during this period.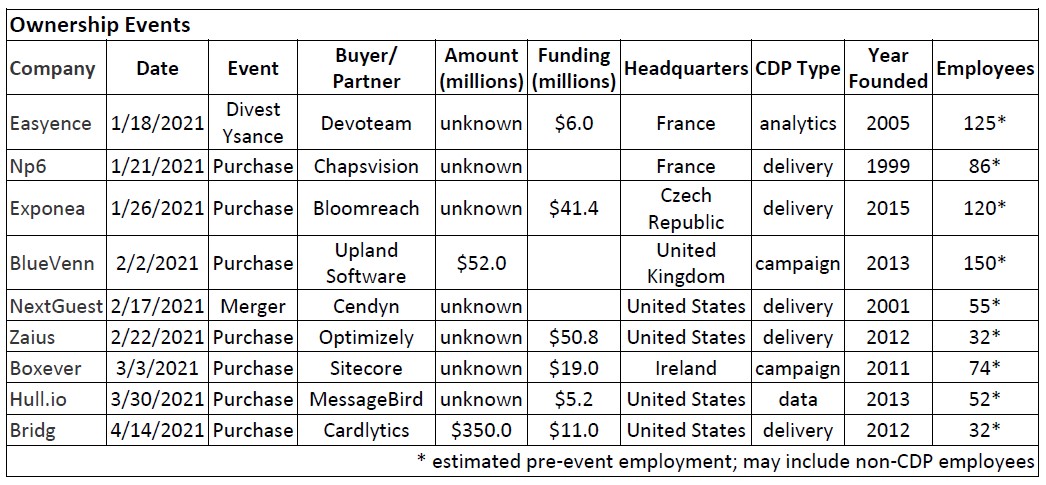 Source: CDP Institute
Interested marketers can download the complete July 2021 CDP industry update report from the CDP Institute's website.
In Conclusion
As more companies realize the importance of leveraging first-party data and the incredible value that CDPs bring to the picture, the interest in CDPs is never going to wane. In fact, the July industry update report clearly indicates that the CDP market is bound to grow exponentially in the coming days. With an increased focus on data privacy and the deprecation of third-party cookies, it makes sense for marketers to employ CDPs to facilitate first-party data-driven marketing.
Connect with us to know how Lemnisk's AI-driven CDP can help you take charge of your data and drive real-time 1-to-1 personalization for your customers.
By Bijoy K.B | Senior Marketing Manager at Lemnisk