As part of Lemnisk's Customer Data Platform (CDP) Virtual Summit for the Middle East & Africa region, we had an insightful fireside chat with industry leader, Thomas Cherian. The topic of this session was Technology-Driven Digital Transformation.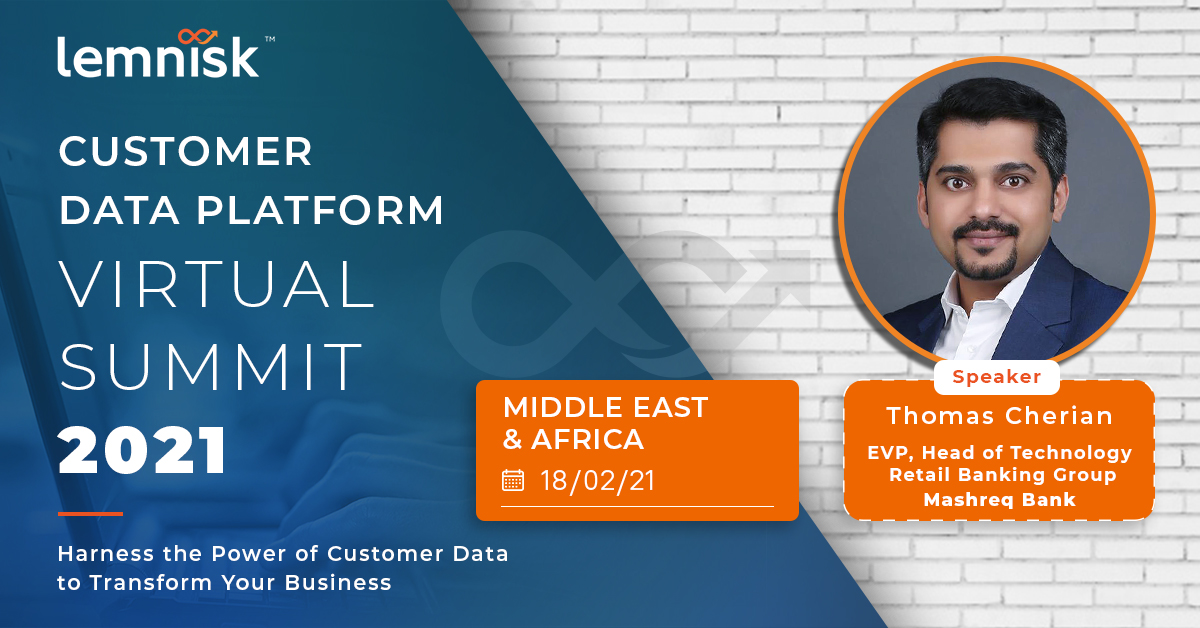 Thomas Cherian is the Executive Vice President & Head of Technology – Retail Banking Group at Mashreq. He is currently driving a digital mission to transform and create strategic future-ready digital capabilities that drive efficient, scalable digital business for Mashreq. He is in charge of the technology and transformation strategy that accelerates and ensures sustainable growth for the digital business at Mashreq.
With a career spanning over 20 years in the banking industry, Thomas spent nearly 2 decades in technology leadership roles at global banks – Citi, Bank of America, Merrill Lynch. As Executive Director at Bank of Singapore, he spearheaded to map the digital capabilities to strategic priorities and was accountable for developing and executing digital roadmap over short, mid & long-term horizon achieving the financial goals.
Thomas is a firm believer in the FinTech & startup ecosystem that has the potential to reshape the future of the banking industry. He has driven strategic alliances with banks and multiple FinTech companies on the adoption of emerging technologies such as Mobility, Advanced Analytics, Artificial Intelligence, and Blockchain technologies, as it drives the future landscape of the banking ecosystem.
Here are some of the main insights from the discussion:
Technology-Driven Digital Transformation
Why is Personalization and Customer Experience becoming critical for banking?
The products and services offered by various banks aren't much different from each other. Therefore, the biggest differentiator that they can provide is the experience that they deliver to their customers. The bank that delivers a superior customer experience has a competitive edge over its peers and gets a bigger slice of the market share.
If a brand can meet the expectations of a customer, it will succeed in increasing his/her brand loyalty. This will also result in increased customer advocacy wherein the customer brings in new customers. 
Personalization is a means of providing a superior customer experience. And it is not just digital alone, offline personalization is also done in banks where customers often conduct in-person visits.
How do you use technology to transform customer experience?
There are 4 strategic technology pillars for providing a great customer experience:
Hyper-Personalization – Provide customers with the right product/service at the right place and at the right time.

Providing an Omnichannel Experience – Give the same consistent experience to the customer across all channels and touchpoints.

Self-Service – Enabling customers to avail brand services on their own without taking the help of a customer service representative or a call center.

AI & Machine Learning – The capabilities of AI & Machine Learning can be utilized to understand the problems/issues faced by the customer and have a feedback loop to improve their experience.
A Customer Data Platform (CDP) is going to be the next biggest thing in providing a superior customer experience. A CDP helps brands in analyzing the insurmountable amounts of data that they have, creating proper customer segments, and enabling them to deliver personalized offers/services to customers. 
How can various functions align themselves to work with each other towards implementing a technology-driven digital strategy?
A company's leadership team should take the initiative of implementing a technology-driven digital transformation strategy. Functions/Teams within a company need to be created around this common goal. The implementation process can be enabled by the IT department.
The platforms and solutions implemented should have an open architecture instead of being closed and rigid. It's not possible for an organization to build every single tool or solution. By making the tech architecture open, the organization can easily integrate innovative new tools and systems into its existing tech stack.
What are your views on upcoming technologies like CDP handing more power to teams such as marketing in managing and democratizing customer data?
In a legacy technology world, IT is always a bottleneck in providing systems and solutions. With CDP, a data layer is created which empowers various functions such as marketing, customer success, IT, etc. to draw their own insights and take action accordingly.
How can leaders build a team that is ready to embrace digital transformation?
Leaders need to communicate clearly what they want to do as an organization with respect to digital transformation.

They need to invest in upscaling their existing technology and processes.

They need to do away with big-scale projects and adopt agile projects that can be rolled out in a couple of weeks.
By Bijoy K.B | Marketing Manager at Lemnisk
One response to "Technology-Driven Digital Transformation"