Lemnisk hosted a Customer Data Platform (CDP) Virtual Summit for the India region in February 2021. The summit's aim was to make enterprise marketers understand how they could transform their business using customer data. During the summit, an insightful panel discussion was held with leading industry stalwarts on the topic – Modern Marketing Stack for the Decade Ahead.
The panel comprised of Mayank Gupta, Senior Director D2C Business, Acko General Insurance, Gaurang Sanghvi, Head – Digital Business, DSP Mutual Fund, and Deepak Oram, Head – Martech & Automation, HDFC Bank.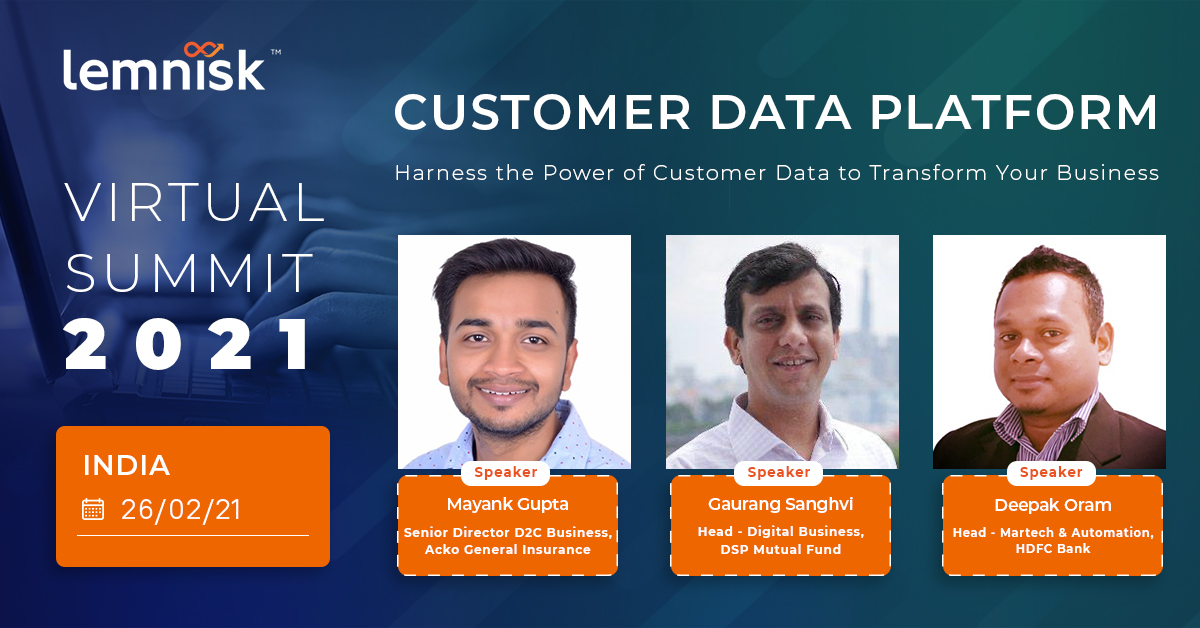 Here are some of the important excerpts from the discussion:
Modern Marketing Stack for the Decade Ahead
The demand for banking products has gone down due to the pandemic. However, people have had the time to reorganize and reassess their financial situation and are now spending more money on their investment accounts.
Companies need to find a way to aggregate data from all customer touchpoints and data sources and build cohorts so that they can understand their customers better.
Identify Customer Intent through their Digital Footprint
It's important to track the digital footprints of customers to discern intricate details such as their engagement levels, channel propensity, click propensity, etc. This will help in understanding which customer can be offered more value and what kind of offers can be delivered to them.
Financial marketers need to offer the right financial product at the right time to customers. By tracking the investment journey of customers, marketers can also deliver the right financial advice even before the customer reaches out to the company.
For any D2C Brand, there are 4 Major North Star Metrics:
Top-of-the funnel engagement

Conversion rate

Average purchase order value

Customer retain rate
Best Practices for Enterprise Marketers Who are Adopting a Digital Strategy:
Check how data-driven is the organization and find out what are the challenges

Check if using martech tools can help solve the challenges

Understand what are the key objectives and goals of the organization – extract insights from customer data that can assist in achieving these goals
By Bijoy K.B | Marketing Manager at Lemnisk