Enterprise Customer Experiences (CX) have evolved from just giving great experiences to customers to being the sole criteria by which customers favor or reject a brand. Previously, in industries such as banks and Financial Services, customer experience starts from the time a customer visits a branch to the time he/she exits the branch. Today, when all businesses are going digital, the same methodology applies when a customer visits and exits a brand's website. The only difference here is that there is no physical or in-person interaction between the customer and the brand's representative.
As a result, it has become quite challenging for Financial Services marketers to replicate the same in-person customer experience, digitally. It has in fact become a necessity for marketers to increase digital customer engagement. The more the engagement, the higher the chances of customer conversions. To explore this concept of designing great customer experiences, we recently had an insightful thought-leadership session with Jaimit Doshi, EVP – Head, Marketing & Digital, Aditya Birla Sun Life Insurance.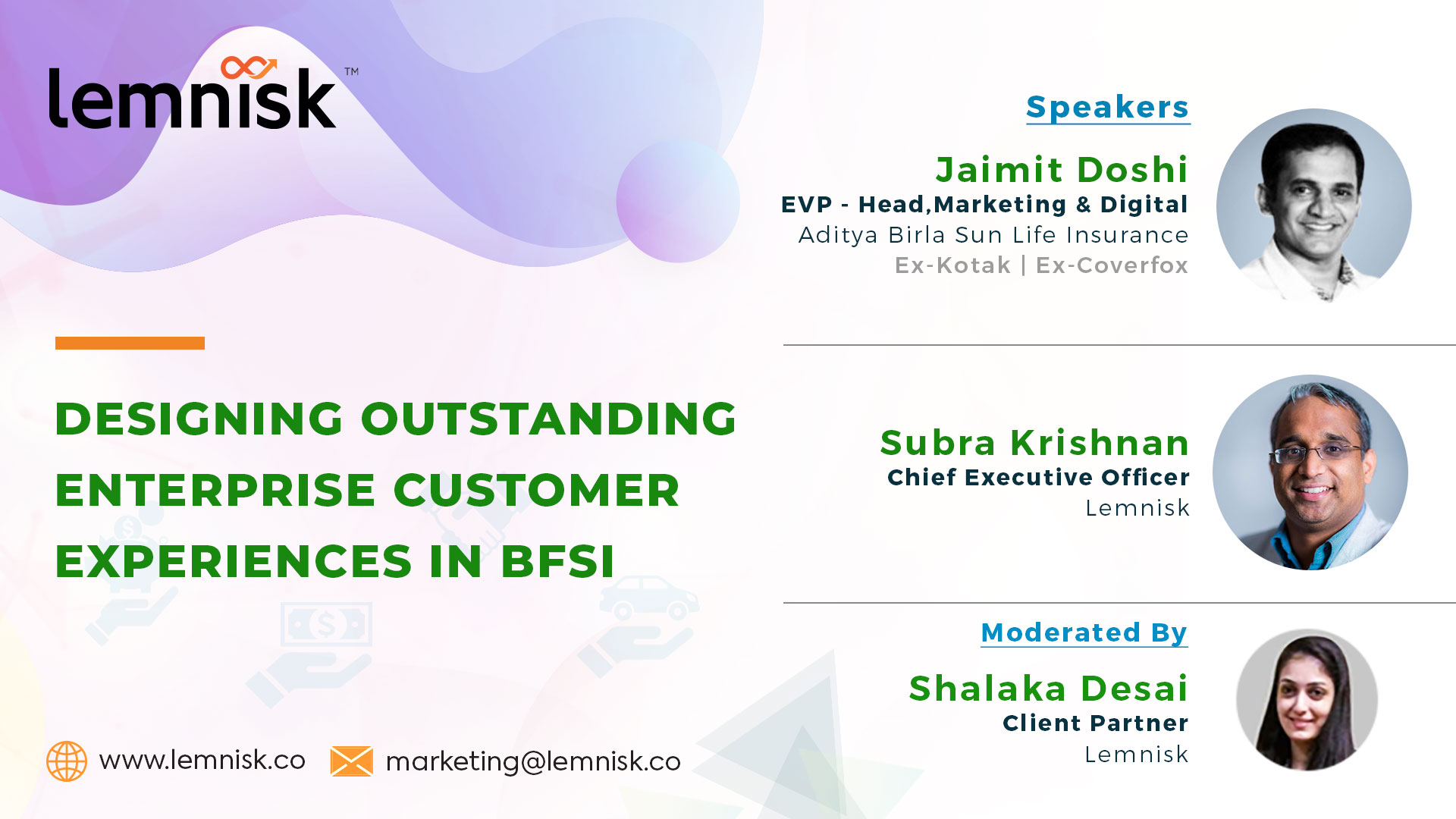 Jaimit is a marketing and sales leader with risk BFSI (Banking, Financial Services, and Insurance) expertise across organizations such as Kotak Mahindra Bank, Kotak Securities, Coverfox, etc. Besides being an award-winning marketer, Jaimit applies his deep cross-functional acumen to being an advisor to startups, visiting faculty at B-schools, and also a regular speaker at industry forums. He has a strong experience in weaving everyday marketing plans into strategy and execution and also has led large-scale global teams. 
In this exciting discussion with Subra Krishnan, CEO, Lemnisk, Jaimit explains how BFSI marketers can design outstanding enterprise customer experiences. Here are some of the important insights from the discussion:
Simplifying enterprise customer experiences are key to connecting with customers

Instead of overwhelming customers with too many online options, marketers should try to offer relevant and useful offers/insights that can help customers in satisfying their requirements. The whole idea is to keep everything simple for the consumer to easily digest what the marketer is trying to offer and then take action accordingly.

The product portfolio for a BFSI company is limited. However, the research cycle and the purchase cycle for products in BFSI are longer when compared to other industries. Therefore, BFSI marketers should try and get a holistic customer view which can make every interaction as rich as possible and also in real-time. 
Purchases in the financial space tend to be constraint-driven

Consumers have certain constraints in the Financial Services space that define their purchases. If marketers can successfully address or solve these constraints, they can sell their products better to these consumers.
The components of building a high-performance customer experience strategy are:
Extreme simplicity of the product 

Craft the sales pitch as per a customer's journey

Digital technologies such as Customer Data Platforms (CDP) help in understanding customer intent
The parameters for selecting a martech platform that marketers need to be aware of are: 
The first important parameter that the marketer should check is whether the martech tool is capable of smoothly integrating with a company's existing technology stack

The next parameter to note is the deployment time of the martech vendor. The sooner the deployment time the better for the marketer.

The last and the most important parameter is to evaluate the martech tool and check if it will genuinely solve problems for the marketer.
By Bijoy K.B | Senior Associate Marketing at Lemnisk