Lemnisk hosted a Customer Data Platform (CDP) Virtual Summit for the North American region in October 2021. As part of this summit, we had an insightful keynote session with Gaurav Bhatia, Chief Marketing Officer and Digital Experience Officer at PenFed Credit Union. The topic of this session was Modern Marketing in the New Decade.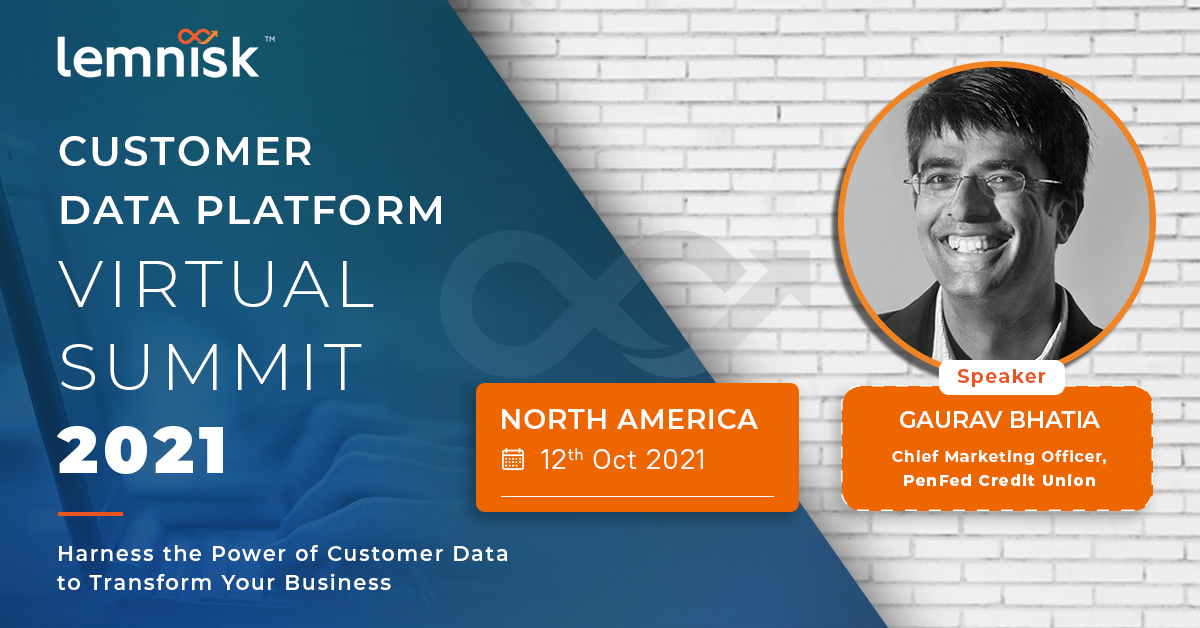 Gaurav is the Chief Marketing Officer and Digital Experience Officer at PenFed Credit Union. In his current role, he is responsible for the growth, marketing strategy/execution, and digital experience for PenFed across all channels – digital and traditional. Under his leadership, PenFed's marketing team is continuing to invest in state-of-the-art marketing tech stacks, such as building a data warehouse, growing PenFed's member relations management, maximizing the capabilities of tools like Adobe and Salesforce, and leveraging data to personalize their marketing.
Forward-thinking, creativity, and willingness to take thoughtful, measured risks to drive outcomes are the qualities that have made Gaurav Bhatia a renowned leader today. He is adept at anticipating future challenges and pivoting to meet unexpected challenges. He also understands the rapid changes within the industry. Gaurav's experience enables him to drive revenue while being a respected and compassionate leader.
Prior to PenFed, he worked as the Chief Digital Officer at NewDay USA and as the Vice President of Digital Strategy at AARP. He has also held senior leadership roles in companies such as NIIT, Capital One, and Sabre.
Here are some of the key takeaways from the insightful keynote session:
Marketing in the New Decade
Over the last five years, with innovative new technologies, the martech stack has evolved drastically. We as marketers have become very sophisticated and end-to-end marketing has now become the focus of brands.
Today, marketers have become broad leaders and also revenue drivers. To get to their target revenue, they need to understand and use data and talk the language in terms of technology and experience. The opportunity exists for them to check if they have the right data to make decisions. The technology has matured and their thinking has to really evolve to take advantage of all the tools that are available for them.
Customer Touchpoints
The number of customer touchpoints is huge nowadays. A brand can have close to about 1000 to 2000 interactions with customers across their journeys. We at PenFed have probably had about 30 to about 60 touch points at a given time to a prospect or customer. And you can't even measure every touchpoint and probably don't even know what impact it has essentially on your cost per acquisition and your revenue.
But we know that customers interact with us via these channels and the underlying theme I use basically is data and experience. However, technology is going to be the key here. Can you deliver the experience in real-time? Do you have the right marketing strategy and the data to define everything?
A good brand needs to target customers on both physical and digital touchpoints. While digital is really leading the way in the pandemic, there is something to be said about the physical touchpoint. It could be a call to a contact center, it could be walking into a retail location, it could be picking up your food at a restaurant which you ordered online, and so on. I'll say that 70% of our focus is going to be digital but 30% still has value in terms of having that human interaction with your customers.
The Marketing Landscape
Marketing is 10 to 20% of what you see in the form of email, social media, videos, podcasts, ads, etc. 80% of it is what you don't see which constitutes elements like data, technology, analytics, personas, CRM, etc. You need to ask questions like do I have the right CRM? Do I have the right data? Am I looking at insights or my channel performance and marketing operations? This is the way we need to invest in.
You really have to understand where your customer is and design your marketing landscape around it. At PenFed, we are over-investing in direct mail and television. This is because we know that our customers and our prospects prefer these channels. This is how you define your marketing landscape. After that, you need to really understand where you are in terms of your digital applications and leverage data and technology accordingly.
Building a Marketing Framework
When it comes to building your marketing framework, everything starts with your CRM and your data. You build your CRM and then marry it together with all the second-party, third-party data analytics you have. After you've done that, you can essentially use your marketing automation platform and optimize it with respect to their experience in advertising and promotion.
CRM and data are very important. This is because if you don't have the foundation elements, your marketing automation tools can't really help you right. If your data is not clean, you're talking about the wrong customers. You're not going to really move the dial and you can't build the best experience. And if the wrong customers come in, they'll never buy from you. Therefore, first invest in a CRM and then in a customer 360 data platform that goes beyond the CRM. The data platform takes your customer and prospect data and builds a marketing experience platform on top of it. Once you acquire a customer, focus on loyalty. A lot of marketers focus on acquisition but do not put enough focus on engagement and retention.
6 Important Lessons that Marketers Need to Learn:
Focus on business insights vs data collection

Data is a business function vs a technology function

The best technology does not win

Don't chose a technology and then retrofit

Clean your data. Else, it is garbage in – garbage out.

Don't overinvest – crawl, walk, run
3 Things in Today's Modern Marketing that You Need to Worry About:
Marketing – do you have the right marketing tool? Are you sending the right messages?

Data & Technology – do you have the right data and technology and insights to help customers along the way and make sure they stick around?

Product – do you have the right product? If they come and look at your marketing and use the product will they be satisfied with it?
By Bijoy K.B | Senior Marketing Manager at Lemnisk