Emirates NBD is among the leading banks in the Middle East, North Africa, and Turkey (MENAT) region. Headquartered in Dubai in the United Arab Emirates, it has a significant retail banking franchise in the UAE and a key player in the global digital banking industry.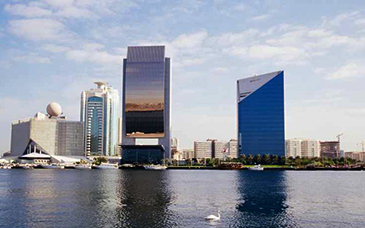 CHALLENGE
1. Boost online conversions through the website using cross-channel engagement.

2. Enhance user experience by personalizing communication for both new-to-bank and existing customers

SOLUTION
Lemnisk's CDP integrated with the bank's ecosystem and unified their data sources to create a single digital view for each individual user. This enabled Emirates NBD's digital marketing department to extract actionable insights, which were further used to craft personalized campaigns for each user. With Ramanujan, Lemnisk's AI prediction layer, the bank was able to send personalized messages at scale to all of their users at the right time with the right message.
RESULT
Emirates NBD was immensely successful in boosting online conversions on their website by hyper-personalizing communication for all users.

10X
uplift in CTRs for personalized campaigns over generic ones

1.7X
uplift in CTR for engagements made using Ramanujan AI versus regular interactions

45%
of customer communications on the website were personalized based on browsing behavior & channel affinity

1.5X
uplift in leads for product engagements made using Ramanujan AI versus ordinary interactions

1.7X
uplift in CTR for engagements made using Ramanujan AI versus regular interactions
75%
reduction in CPA of programmatic display conversions contributed by Lemnisk

34%
of Lemnisk contributed conversions involved purchases that were made in the same session as clicking the ad

"By extracting insights from a unified customer view, we were able to craft unique personalized messages for every individual customer and deliver them via various digital channels in real-time. For our prospects, we utilized Lemnisk to capture their product intent data and power personalization."
Vikram Krishna,
EVP – Head of Group Marketing & Customer Experience, Emirates NBD
Read More Success Stories